McCain - Obama Mindmap
by
Thomas Thornton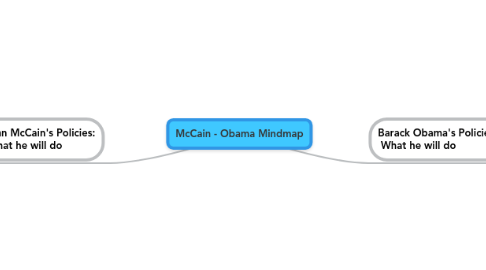 5.0
stars -
3
reviews range from
0
to
5
McCain - Obama Mindmap
Barack Obama's Policies: What he will do
Economy
The Problem Wages are Stagnant as Prices Rise: While wages remain flat, the costs of basic necessities are increasing. The cost of in-state college tuition has grown 35 percent over the past five years. Health care costs have risen four times faster than wages over the past six years. And the personal savings rate is now the lowest it"s been since the Great Depression. Tax Cuts for Wealthy Instead of Middle Class: The Bush tax cuts give those who earn over $1 million dollars a tax cut nearly 160 times greater than that received by middle-income Americans. At the same time, this administration has refused to tackle health care, education and housing in a manner that benefits the middle class.
Health Care
The Problem Millions of Americans are uninsured or underinsured because of rising medical costs: 47 million Americans — including nearly 9 million children — lack health insurance with no signs of this trend slowing down. Health care costs are skyrocketing: Health insurance premiums have risen 4 times faster than wages over the past 6 years. Too little is spent on prevention and public health: The nation faces epidemics of obesity and chronic diseases as well as new threats of pandemic flu and bioterrorism. Yet despite all of this less than 4 cents of every health care dollar is spent on prevention and public health.
Education
The Problem No Child Left Behind Left the Money Behind: The goal of the law was the right one, but unfulfilled funding promises, inadequate implementation by the Education Department and shortcomings in the design of the law itself have limited its effectiveness and undercut its support. As a result, the law has failed to provide high-quality teachers in every classroom and failed to adequately support and pay those teachers. Students Left Behind: Six million middle and high school students read significantly below their grade level. A full third of high school graduates do not immediately go on to college. American 15 year olds rank 28th out of 40 countries in mathematics and 19th out of 40 countries in science. Almost 30 percent of students in their first year of college are forced to take remedial science and math classes because they are not prepared. High Dropout Rate: America has one of the highest dropout rates in the industrialized world. Only 70 percent of U.S. high school students graduate with a diploma. African American and Latino students are significantly less likely to graduate than white students. Teacher Retention is a Problem: Thirty percent of new teachers leave within their first five years in the profession. Soaring College Costs: College costs have grown nearly 40 percent in the past five years. The average graduate leaves college with over $19,000 in debt. And between 2001 and 2010, 2 million academically qualified students will not go to college because they cannot afford it. Finally, our complicated maze of tax credits and applications leaves too many students unaware of financial aid available to them.
Energy & Environment
Obama's comprehensive New Energy for America plan will: Provide short-term relief to American families facing pain at the pump Help create five million new jobs by strategically investing $150 billion over the next ten years to catalyze private efforts to build a clean energy future. Within 10 years save more oil than we currently import from the Middle East and Venezuela combined. Put 1 million Plug-In Hybrid cars -- cars that can get up to 150 miles per gallon -- on the road by 2015, cars that we will work to make sure are built here in America. Ensure 10 percent of our electricity comes from renewable sources by 2012, and 25 percent by 2025. Implement an economy-wide cap-and-trade program to reduce greenhouse gas emissions 80 percent by 2050.
Foreign Policy
BARACK OBAMA'S PLAN TO SECURE AMERICA AND RESTORE OUR STANDING "I am running for President of the United States to lead this country in a new direction… Instead of being distracted from the most pressing threats that we face, I want to overcome them. Instead of pushing the entire burden of our foreign policy on to the brave men and women of our military, I want to use all elements of American power to keep us safe, and prosperous, and free. Instead of alienating ourselves from the world, I want America – once again – to lead… This must be the moment when we answer the call of history. For eight years, we have paid the price for a foreign policy that lectures without listening; that divides us from one another – and from the world – instead of calling us to a common purpose; that focuses on our tactics in fighting a war without end in Iraq instead of forging a new strategy to face down the true threats that we face. We cannot afford four more years of a strategy that is out of balance and out of step with this defining moment." — Barack Obama, Washington, D.C., July 15, 2008
Veterans
The Problem Wounded Troops Suffer: The Walter Reed scandal showed that we don"t always provide returning service members with the care they deserve. Veterans Budget Shortfalls: In 2005, a multi-billion dollar VA funding shortfall required Congress to step in and bail out the system. Benefits Bureaucracy is Broken: There are currently more than 400,000 claims pending with the Veterans Benefits Administration. VA error rates have grown to more than 100,000 cases a year. There is Shortage of Care for PTSD: Veterans are coming home with record levels of combat stress, but we are not adequately providing for them.
John McCain's Policies: What he will do
Economy
A pro-growth, pro-jobs strategy to get our economy back on track. John McCain"s strategy includes taking the near-term actions needed to provide immediate help to American families while also taking the longer-term steps necessary to secure America"s economic prosperity and leadership in the world. 
Health Care
John McCain is willing to address the fundamental problem: the rapidly rising cost of U.S. health care. Bringing costs under control is the only way to stop the erosion of affordable health insurance, save Medicare and Medicaid, protect private health benefits for retirees, and allow our companies to effectively compete around the world. 
Education
Excellence, choice, and competition in American education. John McCain believes American education must be worthy of the promise we make to our children and ourselves. He understands that we are a nation committed to equal opportunity, and there is no equal opportunity without equal access to excellent education.
Energy & Environment
Our nation"s future security and prosperity depends on the next President making the hard choices that will break our nation"s strategic dependence on foreign sources of energy and will ensure our economic prosperity by meeting tomorrow"s demands for a clean portfolio. 
National Security, Foreign Policy, and Veterans
The most sacred responsibility vested in a president - the commander in chief - is to "preserve and protect" American citizens. John McCain has the necessary vision and unrivaled experience to command the United States armed forces and adapt our nation"s defenses to the demands of a changing and dangerous world.  John McCain believes it is strategically and morally essential for the United States to support the Government of Iraq to become capable of governing itself and safeguarding its people. The best way to secure long-term peace and security is to establish a stable, prosperous, and democratic state in Iraq. When Iraqi forces can safeguard their own country, American troops can return home.  America owes its liberty, its prosperity, and its future to our veterans who have dedicated their lives to protecting our great country. John McCain has fought to honor our national commitment to our veterans who have given their careers and livelihoods to ensuring our freedom. He believes we must provide for service members and their families while they serve, we must help those who return from combat to adjust to civilian life, and we must honor and never forget the service of those who do not return.