MACRO SKILLS
by karla guadalupe servellon martinez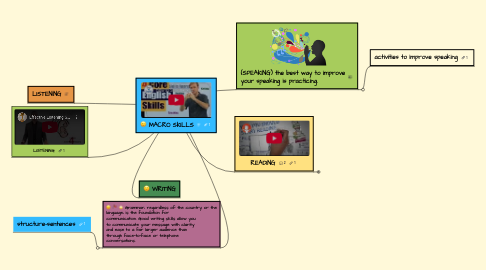 1. Grammar, regardless of the country or the language, is the foundation for communication. Good writing skills allow you to communicate your message with clarity and ease to a far larger audience than through face-to-face or telephone conversations.
1.1. structure-sentences
2. LISTENING
3. WRITING
4. LISTENING
5. (SPEAKING) the best way to improve your speaking is practicing.
5.1. activities to improve speaking
6. READING
6.1. English
6.1.1. Text book p. 55-60
6.1.2. Joseph Conrad "Heart of Darkness"