Improving Low Performing Schools
by Daniel Barnes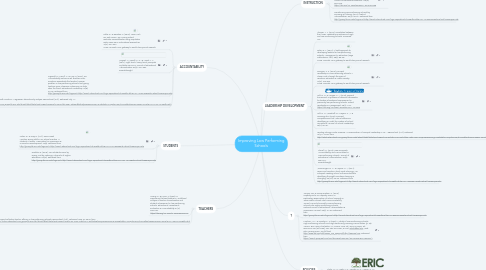 1. ACCOUNTABILITY
1.1. Fahle, E., & Reardon, S. (2018). How Much Do Test Scores Vary Among School Districts? New Estimates Using Population Data, 2009–2015. Educational Researcher, 47(4), 221–234. SAGE Journals: Your gateway to world-class journal research
1.2. Huguet, A., Farrell, C. C., & Marsh, J. A. (2017). Light touch, heavy hand: principals and data-use PLCs. Journal of Educational Administration, 55(4), 376–389. EmeraldInsight
1.3. Ingersoll, R., Merrill, L., & May, H. (2016). Do Accountability Policies Push Teachers Out? Sanctions exacerbate the teacher turnover problem in low-performing schools--but giving teachers more classroom autonomy can help stem the flood. Educational Leadership, 73(8), 44–49. Retrieved from http://jproxy.lib.ecu.edu/login?url=http://search.ebscohost.com/login.aspx?direct=true&db=ehh&AN=115591948&site=ehost-live&scope=site
1.4. School turnaround in North Carolina: A regression discontinuity analysis: EBSCOhost. (n.d.). Retrieved July 11, 2018, from http://eds.b.ebscohost.com.jproxy.lib.ecu.edu/ehost/detail/detail?vid=0&sid=06eac9f4-29e2-4fd3-a687-3d386dbbf03f%40sessionmgr101&bdata=JnNpdGU9ZWhvc3QtbGl2ZSZzY29wZT1zaXRl#AN=127871913&db=ehh
2. STUDENTS
2.1. Fisher, D., & Frey, N. (n.d.). Teens Need Mentors: Every adult in our school mentors 11 students. It works. Association for Supervision & Curriculum Development, 75(8). Retrieved from http://jproxy.lib.ecu.edu/login?url=http://search.ebscohost.com/login.aspx?direct=true&db=ehh&AN=129418923&site=ehost-live&scope=site
2.2. Gooblar, D. (2018). Your Students Learn by Doing, Not by Listening. Chronicle of Higher Education, 64(33). Retrieved from http://jproxy.lib.ecu.edu/login?url=http://search.ebscohost.com/login.aspx?direct=true&db=ehh&AN=130114216&site=ehost-live&scope=site
3. TEACHERS
3.1. Huang, F., & Moon, T. (2009). Is experience the best teacher? A multilevel analysis of teacher characteristics and student achievement in low performing schools. Educational Assessment, Evaluation & Accountability, 21(3), 209–234. https://doi.org/10.1007/s11092-009-9074-2
3.2. Perceived collective teacher efficacy in low performing schools: EBSCOhost. (n.d.). Retrieved June 24, 2018, from http://eds.a.ebscohost.com.jproxy.lib.ecu.edu/ehost/detail/detail?vid=5&sid=340f4735-1ee9-449b-b517-84fd97b8fe4e%40sessionmgr4006&bdata=JnNpdGU9ZWhvc3QtbGl2ZSZzY29wZT1zaXRl#AN=130215943&db=ehh
4. INSTRUCTION
4.1. Bellei, C. (2013). Supporting Instructional Improvement in Low-Performing Schools to Increase Students' Academic Achievement. Journal of Educational Research, 106(3), 235–248. https://doi.org/10.1080/00220671.2012.687788
4.2. Transforming Low-Performing Schools by Focusing on Literacy. (2017). District Administration, 53(4), 56–57. Retrieved from http://jproxy.lib.ecu.edu/login?url=http://search.ebscohost.com/login.aspx?direct=true&db=ehh&AN=121933222&site=ehost-live&scope=site
5. LEADERSHIP DEVELOPMENT
5.1. Abuyen, J. L. (2016). Correlation between the McREL Leadership Practices and High and Low Performing Schools. ProQuest LLC.
5.2. Duke, D. L. (2014). A bold approach to developing leaders for low-performing schools. Management in Education (Sage Publications, Ltd.), 28(3), 80–85. SAGE Journals: Your gateway to world-class journal research
5.3. Finnigan, K. S. (2012). Principal Leadership in Low-Performing Schools: A Closer Look Through the Eyes of Teachers. Education & Urban Society, 44(2), 183–202. SAGE Journals: Your gateway to world-class journal research
5.4. Hitt, D. H., & Meyers, C. V. (2018). Beyond turnaround: a synthesis of relevant frameworks for leaders of sustained improvement in previously low-performing schools. School Leadership & Management, 38(1), 4–31. https://doi.org/10.1080/13632434.2017.1374943
5.5. Hitt, D. H., Woodruff, D., Meyers, C. V., & Guorong Zhu. (2018). Principal Competencies That Make a Difference: Identifying a Model for Leaders of School Turnaround. Journal of School Leadership, 28(1), 56–81.
5.6. Leading Change Under Pressure: An Examination of Principal Leadership in Lo...: EBSCOhost. (n.d.). Retrieved July 11, 2018, from http://eds.b.ebscohost.com.jproxy.lib.ecu.edu/ehost/detail/detail?vid=0&sid=ca1e4bab-470a-425b-bf39-c9ab1a9615c5%40sessionmgr104&bdata=JnNpdGU9ZWhvc3QtbGl2ZSZzY29wZT1zaXRl#AN=55133212&db=ehh
5.7. Shirrell, M. (2016). New Principals, Accountability, and Commitment in Low-Performing Schools. Journal of Educational Administration, 54(5), 558–574. EmeraldInsight
5.8. VanGronigen, B. A., & Meyers, C. V. (2017). Topics and Trends in Short-Cycle Planning: Are Principals Leading School Turnaround Efforts Identifying the Right Priorities? Planning & Changing, 48(1/2), 26–42. Retrieved from http://jproxy.lib.ecu.edu/login?url=http://search.ebscohost.com/login.aspx?direct=true&db=ehh&AN=129540514&site=ehost-live&scope=site
6. ?
6.1. JoHyun Kim, & Kemp-Graham, K. (2013). Capacity Rich? Or Capacity Poor? An Exploratory Examination of School Capacity in Texas Public Schools That Have Successfully Turned Around Chronically Low-Performing Schools into Higher Performing Schools. National Forum of Educational Administration & Supervision Journal, 30(2), 41–60. Retrieved from http://jproxy.lib.ecu.edu/login?url=http://search.ebscohost.com/login.aspx?direct=true&db=ehh&AN=85690700&site=ehost-live&scope=site
6.2. Meehan, M. L., & Cowley, K. S. (2003). A Study of Low-Performing Schools, High-Performing Schools, and High-Performing Learning Communities. (p. 25). AELP.O. Box 1348, Charleston, WV 25325-1348. Tel: 304-347-0400; Tel: 800-624-9120 (Toll Free); Fax: 304-347-0487; e-mail: [email protected]; Web site: Coming Soon. For full text: http://www.ael.org/pdf/Hawaii_ICE_Paper.pdf.http://www.ael.org. Retrieved from https://search.proquest.com/eric/docview/62221321/6F12D265180A430FPQ/1
7. POLICIES
7.1. Klute, M. M., Welp, L. C., Yanoski, D. C., Mason, K. M., & Reale, M. L. (2016). State Policies for Intervening in Chronically Low-Performing Schools: A 50-State Scan. REL 2016-131. Regional Educational Laboratory Central. Retrieved from https://eric.ed.gov/?q=low+performing+schools&pr=on&ft=on&id=ED566905