Dylemat Anki
by Izabela Barczak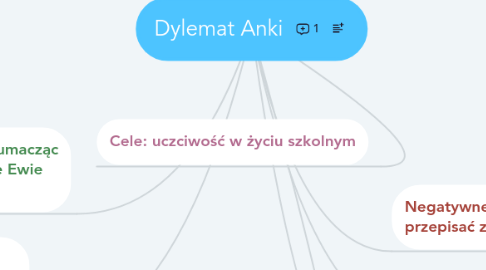 1. Cele: uczciwość w życiu szkolnym
2. Pozytywne: Anka, tłumacząc uczciwością, nie daje Ewie odpisać zadań.
3. Skutki: Ewa obraża się na koleżankę i nie odzywa się do niej, tłumacząc to niechecią do pomocy jej.
4. Możliwe rozwiązania: Anka nie pozwala Ewie spisać zadania tłumacząc to nieuczciwością, natomiast proponuje jej pomoc przy zrozumieniu tematu i ewentualnej poprawie sprawdzianu.
5. Negatywne: Anka pozwala przepisać zadanie Ewie.
6. Skutki:
7. Skutki: Skutki: Prawdopodobnie Ewa będzie częściej oczekiwała od koleżanki takiego zachowania, a docelowo oszustwo będzie dla niej normą.