Types of Presentations
by Mindmeister Admin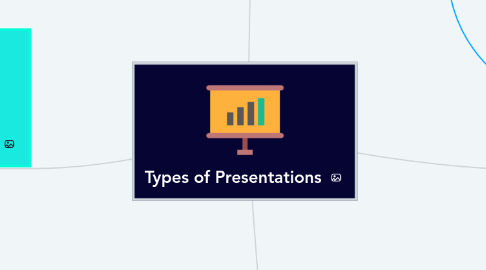 1. The 6 Different Types of Presentations
1.1. Skill teaching presentations
1.2. Information oriented presentations
1.3. Presentations for sales
1.4. Progress reporting presentations
1.5. Problem solving presentations
1.6. Decision making presentations
2. Presentation Formats
2.1. Visual Format
2.1.1. Visual presentations communicate information using visual aids like graphs, posters, videos, charts, etc.
2.2. Free Form Or Impromptu
2.2.1. Free form presentations are delivered in the spur of the moment.
2.3. Instructor Format
2.3.1. Instructor style presentations are used to deliver complex messages in a simple manner using metaphors, figure of speech, facts and lots of content.
2.4. Storytelling Format
2.4.1. Storytelling presentations build a connection with the audience by using powerful anecdotes and examples.
2.5. Coach Format
2.5.1. Coach style presentations use role play and listener interaction style.
2.6. Connector Format
2.6.1. Presentations in which the presenter connects with the audience through his/her speaking style.
3. Presentation Tools
3.1. Visme
3.1.1. Cloud based presentation tool
3.1.2. Features drag and drop design method
3.1.3. Multiple offers ranging from $20 to $60
3.2. Haiku Deck
3.2.1. Creates both basic and elegant presentations
3.2.2. Features an array of fonts and images
3.2.3. Three plans from $7.99 to $29.99 per month
3.3. MindMeister
3.3.1. Ideal for client presentations
3.3.1.1. And the classroom
3.3.2. Available in 13 languages
3.3.3. 4 pricing plans: Basic, Personal, Pro, and Business, plus discounts for education
3.4. Slide Camp
3.4.1. Used to create company presentations.
3.4.2. Maintains the consistency of presentations across multiple presentations
3.4.3. Plans range from $49 to $499 per month
3.5. Prezi
3.5.1. Template based presentation solution
3.5.2. Keeps your presentations organized
3.5.3. Cost depends on number of users, ranges from $50 to $59 per user.
3.6. Emaze
3.6.1. Create customized presentations
3.6.2. Features stunning media, GIF's, 3D and video effects.
3.6.3. Free for basic plan else $13 to $39 per month.
3.7. Power Point Online
3.7.1. Online version of microsoft powerpoint
3.7.2. Lets you download the presentation as a PDF for offline viewing
3.7.3. Free sign up
4. Tips for Public Speaking
4.1. Be confident in front of your audience
4.1.1. Be absorbed in your subject
4.1.2. Practice multiple times
4.1.3. Always have something to say
4.1.4. Expect success
4.2. Prepare your subject
4.3. Be enthusiastic about your topic
4.4. Show efficiency by changing your pitch
4.5. Utilize pauses to your power
4.6. Add feelings to your speech
4.7. Reflect your emotions through gestures
4.8. Be a leader and influence the crowd
4.9. Work on your vocabulary
4.10. Practice memory training