Creative Schools Mind Map
by Stacy Tippens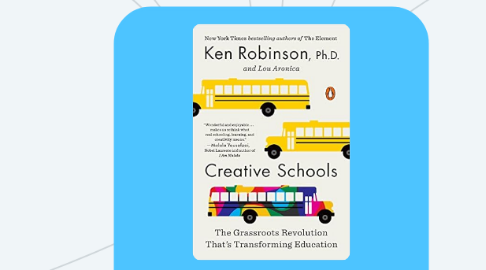 1. Chapter 1: Back to Basics
1.1. Education is a hot political issue.
1.1.1. Economics: "A well educated workforce is crucial to national economic prosperity
1.1.2. Culture: "Education is of the main ways that communities pass on their values and traditions from one generation tot he next
1.1.3. Social: Public education aims to "provide all students, whatever their backgrounds and circumstances, with opportunities to prosper and succeed and to become active and engaged citizens.
1.1.4. Personal: Education strives to help "all students to realize their potential and to live fulfilled and productive lives."
1.2. The Standards movement is not working.
1.2.1. In 2012 17% of US High School grads were unable to read or write fluently.
1.2.2. 2005 21% of US young adults (18-24) could not identify the Pacific ocean on a map.
1.2.3. There is a widening gab between what schools are teaching and what the economy needs.
1.2.4. Youth unemployment is at record level and thus not meeting the economic needs.
1.2.5. College grads struggle to find jobs that use their degrees.
1.3. Standards based education de-emphasizes soft subjects and soft skills.
1.3.1. The standards movement emphasizes academic study. Art, PE, Media and Vocational ed are given low priority or not taught at all.
1.3.2. Direct instruction and whole-class teaching are favored over group activities and creative modes of work.
1.3.3. Formal, written exams and multiple choice tests are favored over portfolios, evaluations, and other alternative assessments.
1.4. The standards movement is having huge affect on student engagement and teacher morale.
1.4.1. The graduation rate in the US used to be one of the highest. Now it's about about 75%
1.4.2. 12 years after NCLB half of African-Americans and Latinos drop out of school
1.4.3. 250,000 teachers leave the profession every year.
1.4.4. 40% of new teachers leave the profession with in the first five years.
1.4.5. 20% turnover rate for faculty, yearly, in high poverty areas.
2. Chapter 2: Changing Metaphors
2.1. Mentor ship Can have a huge impact on achievement.
2.1.1. Students learn what the future may hold for them from mentors that they forge emotional ties with.
2.1.2. Mentors empowered their students to learn something that they never had before and the kids felt that they had some something significant.
2.1.3. Complete projects gave students the feeling of being able to accomplish anything.
2.1.4. Mentors help students to have a different vision of their future and even students with little academic capability find their passion.
2.1.5. Grades went up across the board. Of 12 seniors they all graduated and 80% went to college.
2.2. market Principles can be applied to education.
2.2.1. Mass manufactured is designed to produced identical items. Mass education was designed for students to attain identical requirements.
2.2.2. Mass manufacturing requires compliance of rules and standards. Mass education is also standards based.
2.2.3. Manufacturing processes are linear and pass through stages. Mass education is also linear and passes through stages: elementary, Middle, high, etc.
2.2.4. Mass manufacturing depends on market demand for the product. The importance placed on STEM classes shows that education is also dependent upon market demands.
2.2.5. Processing plants have a division of labor and a segmented day much like transitional high schools with bells ringing every 45 to 90 minutes to signal the movement to a new task.
2.3. Experiential Learning Builds Engagement among students and faculty.
2.3.1. Students who were once apathetic bout going to school became excited to go.
2.3.2. A lowest performing school because a top performing school after bringing in experiential learning
2.3.3. Students and teachers work harder in this model than in a traditional setting, but moral is high because of the reward of seeing results.
2.4. Organic Education can be compared to organic farming in that it invigorates the living cultures of schools much like organic farming promotes healthy plants.
2.4.1. The health of the student is considered by education whole person : intellectually, physically, spiritually and socially.
2.4.2. The ecology of of the community as a whole and the interdependence of us all is cultivated.
2.4.3. Every child is encouraged to draw upon their strengths and individual talents.
2.4.4. An environment of compassion, experience and wisdom create optimal conditions for learning.
2.5. Education has 4 basic purposes to fulfill.
2.5.1. Economic: students should be able to economically independent and responsible upon completion.
2.5.2. Cultural: Students should appreciate who they are and their own culture, but should also respect the diversity around them.
2.5.3. Social: Students should be active and responsible citizens upon completion
2.5.4. Personal: Studnets should be able to engage with themselves and with the world around them.
3. Chapter 3: Changing Schools
3.1. Schools need to think in new ways.
3.1.1. Opportunities to innovate exist in every environment including high-stakes testing environments.
3.1.2. Schools in Finland have a broad balanced curriculum, no standardized tests, high priority on practical and vocational education and have consistently high standards of achievement .
3.1.3. Education has an abundance of emergency features that are changing the context in which schools work.
3.1.4. Parents are questions the effects of industrialized education on their children.
3.1.5. Students are questioning going to college because degrees have less and less meaning.
3.2. Education's goal is to create a symbiotic environment with conditions allow the relationship between students and teachers flourish.
3.2.1. Create conditions where students will want to learn and be able to learn.
3.2.2. Teachers facilitate students' learning
3.2.3. Principles create condtion were teachers can facilitate learning
3.2.4. Policy makers created conditions where principles and schools can flourish.
4. Changing 4: Natural Born Learners
4.1. Children have an immense capacity to learn.
4.1.1. A computer was install in New Delhi. Children had never seen one and didn't know about the internet. It was in English. With in hours they were playing games recording, surfing the web and teaching each other how to use it.
4.1.2. Another group of India children was given a text to speech program. They had thick accents and the computer couldn't understand them. With in 2 months they had changed their speech to a British accent so they could use the computer.
4.1.3. A group of Tamil-speaking children taught them selves about the improper replication of the DNA molecule in English in 2 months.
4.2. Academic work is the intellectual work that is manly theoretical or scholarly and it has three principle elements.
4.2.1. Propositional knowledge are facts about what is the case. Knowing that. You can study art history with knowing how to make music.
4.2.2. Procedural knowledge: Theoretical analysis - concepts, procedures, assumptions, hypotheses. Knowing how. This is the doing making the music.
4.2.3. Desk studies - reading, writing, mathematics
4.2.4. Some people excel in propositional knowledge (academic), while other excel in Procedural (the practical side of knowledge).
4.2.5. our schools do not adequately reflect the variety of talents.
4.2.6. For many students the problem is not that they can't learn but how they are required to learn.
4.3. Taking the constraints away from education offers enables all students to learn in the way that suits them best
4.3.1. Offers a chance to connect with an institution that was actually pay attention them.
4.3.2. This environment lets kids work with the teachers instead of against them and helps them feel like what they think matters.
4.3.3. This type of systems demonstrates that all students have natural ability than can be taped into if systems move beyond the confines of academic conformity.
4.4. Personalization is everywhere on our phones, cars, healthcare, but not in education. Personalizing education has huge ramifications for students.
4.4.1. it recognizes that intelligence is divers and multifaceted.
4.4.2. Enables students to pursue their interests and strengths
4.4.3. would adapt the schedule to the rates that students learn.
4.4.4. assess students in ways that support their personal progress and achievement.
4.4.5. assess students in ways that support their personal progress and achievement.
4.5. Play is important to learning
4.5.1. unsupervised play leads towards learning skills that are essential to becoming responsible adults..
4.5.2. Play is natures way of insuring that children acquire the skills they need to become successful adults.
4.5.3. No play = killed spirit and stunted mental growth
4.5.4. Free play is how children learn to make friends, overcome fears, solve problems and become independent thinkers.
5. Changing 5: The Art of Teaching
5.1. If Children are natural learners why are teachers necessary
5.1.1. Good Teachers create the conditions for learning
5.1.2. Teachers create an environment that uses a wide variety of approaches: learning discovery, self expression, small group activities, whole group instruction.
5.1.3. Expert teachers engage, enable, expect and empower students.
5.1.4. The job is not to teach subjects, but to teach students.
5.1.5. expert teachers have a repertory of skills and techniques.
5.1.6. Expert teachers adapt their strategies to the needs and opportunities of the moment
5.1.7. Teachers keep curiosity alive.
5.1.8. Expert teachers are mentors and guides.
5.2. Building Power Learning(BPL) helps students become better learners through three fundamental beliefs.
5.2.1. Education prepares students mentally, emotionally, and socially for life after school.
5.2.2. Education should promote a love of life long learning and discovery.
5.2.3. Education is a tool to build confidence, capability and passion in students.
5.3. Flipped classrooms can be an effective mechanism for learning.
5.3.1. Makes instruction about learning at your pace and is not build on passively listening to someone else instruct.
5.3.2. The classroom will still be there for you to ask questions when there are bumps in the road. It's also available for projects.
5.3.3. Teachers serve as "the guide on the side," instead of the "sage on the stage."
5.3.4. Facilitates peer instruction/interaction which exhibits learning gains higher than in traditional courses.
5.3.5. Allows for more personalized time with students.
5.4. Myths to creativity
5.4.1. Only special people are creative
5.4.2. creativity is only about the arts
5.4.3. creativity cannot be taught
5.4.4. creativity is about uninhibited self expression.
6. Chapter 6: What's Worth Knowing?
6.1. Curriculum can be thought of in terms of structure, content, mode and ethos.
6.1.1. Structure is the entire curriculum and the relationship between it's elements. Usually organized around math, science, history, English. the arts are at the bottom of the hierarchy or left out completely.
6.1.2. Content is the material to be learned. Usually a focus on theory and analysis and not on practical or vocational.
6.1.3. Mode is how students engage with the curriculum.
6.2. There are 8 core competencies based on the four purposes of curriculum that can be used to facilitate a new framework.
6.2.1. Curiosity: An Engaged Curiosity helps students learn for themselves.
6.2.2. Creativity: Being creative is at the heart of being human and central to meeting the four purposes of education.
6.2.3. Criticism: Considering Arguments logically and critically thinking is a cornerstone of humanity and should be a part of every school discipline.
6.2.4. Communication: Demonstrating well-being and achievement is dependent upon being able to formally communicate our thoughts and feelings weather the methods are verbal, written or through other means.
6.2.5. Collaboration: Working together promotes self-esteem, curiosity, creativity, positive social behaviors, and achievement.
6.2.6. Compassion: Practicing compassion helps to thwart bullying, violence, emotional abuse, social exclusion, and prejudices.
6.2.7. Composure: Practicing mindfulness and composure help students deal with stress, anxiety and depression.
6.2.8. Citizenship: Students need to understand the rights and responsibilities of citizen because democracies depend on their citizens to lead.
6.3. A balanced Curriculum addresses the major areas of intelligence, cultural knowledge, and personal development. while catering to personal strengths and individual interests.
6.3.1. The arts are important education because they are essential to intellectual development, the show diversity of intelligence, and they are an expression of human culture.
6.3.2. Humanities education broadens and deepens the understanding of the world around us.
6.3.3. Language Arts is essential to learning how to think, reason and communicate.
6.3.4. Mathematics teaches the relationship between number, size, quantity and space. It is essential to the study of science, technology, art and is needed for daily life.
6.3.5. Physical Education is essential to building individual and team skills.
6.3.6. Science education teaches understanding of evidence, the processes and laws of the natural world, and practical and theoretical inquiry.
7. Chapter 7: Testing, Testing
7.1. There have been disastrous consequences to Standardized test.
7.1.1. Using standardized tests for accountability means that the tests are driving the curriculum and instruction.
7.1.2. Teachers are limited in the assessment that they can use because of the pressure to boost test scores.
7.1.3. Having an emphasis on testing means that children are not taught to use their natural creativity.
7.1.4. Districts are massaging test scores because results weigh heavily on school funding and teacher evaluations.
7.1.5. Parents are asking for children to be diagnosed with attention disorders so that they can have additional testing time.
7.2. Why do we need assessments?
7.2.1. Assessments compare individual performance and rate them against particular criteria.
7.2.2. To Help Teachers understand students' aptitudes and level of development.
7.2.3. To gather information on Students' work and activities to support their progress.
7.2.4. To make judgment on students' overall performance at the end of a program.
8. Chapter 8: Principles for Principals
8.1. A visionary leader can facilitate educational reform.
8.1.1. The role of a principle is to appreciate the individuality of the student body, seek potential in them and strive to move the school forward in the face of constant change.
8.1.2. Great leader know how to conjure motivation and aspiration to the drive performance.
8.1.3. Leaders make sure that there are systems and resources available for the vision to be realized.
8.1.4. Good leaders have the ability to inspire those that they lead with the sense that they are doing the right thing, and are able to do it.
8.2. What is the job of a principle?
8.2.1. To build community among the students, teachers, parents, and staff, who need to share a common set of purposes.
8.2.2. To build the context and capacity within a community to take on ideas but not feel threatening.
8.2.3. a Good Principle can effectively change the culture and achievement of a school
8.2.4. Sustaining a vibrant culture of learning.
8.3. There are three main factors in transforming a school.
8.3.1. Quality leadership
8.3.2. Faculty willing to engage in change.
8.3.3. Quality professional development.
9. Chapter 9: Bring IT all Back Home
9.1. Parents play a large role in success.
9.1.1. Help to create a roe rounded understanding of their student's qualities and capabilities.
9.1.2. Identify personal talents that engage their students.
9.1.3. Parents engagement directly relates to motivation and achievement.
9.1.4. Parent involvement helps create more successful learning environments.
9.2. There are five essential supports for successful reform.
9.2.1. Parent and community ties.
9.2.2. Strong leadership
9.2.3. the quality of the faculty and staff
9.2.4. a student-centered learning climate
9.2.5. strong curriculum alignment.
9.3. when parents and communities are involved change happens.
9.3.1. They lead the charge for improved school facilities and staff
9.3.2. They positively influence curriculum.
9.3.3. They provide more and better extracurricular activities.
9.4. While parent involved is a good thing over involvement is not. (Helicopter and Lawnmower parents.) Parents who justify micromanagement of their children do so at the child's expense.
9.4.1. Micromanaged students tend to develop a lifelong dependency and are not capable of fighting their own battles.
9.4.2. When children aren't given the space to struggle they don't learn to problem solve.
9.4.3. This can also affect their self-esteem because they don't learn to be confident in their own abilities.
9.4.4. Because they never experience failure they develop a fear of failure and disappointment and this can lead to anxiety and depression.
9.5. National PTA standards for Family-School Partnerships
9.5.1. Welcoming Environment
9.5.2. Two-way meaningful communication between the school and the families.
9.5.3. Supportive environment.
9.5.4. Encourage advocacy for every child.
9.5.5. Equal partnership.
9.5.6. Collaboration with the wider community.
10. Chapter 10: Changing the Climate
10.1. Policy Makers need to practice the four principles of education and facilitate conditions based on those. (Health, Ecology, fairness, care)
10.1.1. Policy makers need to understand how students learn, provide for a diverse curriculum, and support methods of teaching and assessment that motivate rather than inhibit.
10.1.2. Teachers and schools need to be inspired, they need to know that policymakers really understand the challenges they are facing and that the policymakers have the best interest of the students and teachers in mind.
10.1.3. Policymakers need to advocate for change and give schools permission to break old habits in the interest of breaking new ground.
10.1.4. Policymakers need to provide for continual professional development. It is essential to the success of the students, schools and community.
10.2. There are many steps to the process of making change. The ride is not fast and it is not smooth.
10.2.1. Talk to everyone and make sure they understand that you are sincere in your question for knowledge. Ask lots of questions and poll everyone, in every position.
10.2.2. take a strength-based approach to change based on the conversations had in step 1.
10.2.3. Put in place practices and structure to show people you are listening to them.
10.2.4. The conversation should be long term and continuous.
10.2.5. Bring in people from the outside for a different perspective.
10.3. If we know how to change why don't we?
10.3.1. Changing old habits is hard.
10.3.2. Local and national cultures affect how education is conducted.
10.3.3. Some politicians what to open public schools to the market. They also like to use testing numbers for political gain. The standards movement helps to promote this.
10.3.4. There are 5 essential elements needed to bring about change. If just one of those is missing then the process stumbles.