DISADVANTAGES OF  ONLINE SHOPPING
by Saja Hattab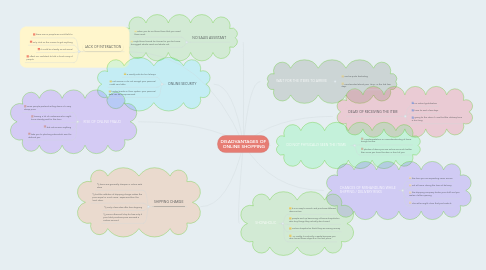 1. DO NOT PHYSICALLY SEEN THE ITEMS
1.1. Misinterpretation or misunderstanding of items bought online
1.2. photos of items you see online are much better than once you have the item in front of you.
2. WAIT FOR THE ITEMS TO ARRIVE
2.1. can be quite frustrating
2.2. most excited about your "buy" in the first few days
3. CHANCES OF MISHANDLING WHILE SHIPPING / DELIVERY RISKS
3.1. the item you are expecting never arrives
3.2. not at home during the time of delivery
3.3. the shipping company broke your stuff and you realize it after opening
3.4. The seller might claim that you broke it.
4. RISK OF ONLINE FRAUD
4.1. some people pretend selling items at a very cheap price
4.2. leaving a lot of customers who might have already paid for the item
4.3. did not receive anything
4.4. take you to phishing sites which want to defraud you
5. SHIPPING CHARGE
5.1. items are generally cheaper in online web store
5.2. but the addition of shipping charge makes the price equal or much more  expensive than the local store.
5.3. Only a few sites offer free shipping
5.4. some others will ship for free only if your total purchase price exceeds a certain amount.
6. LACK OF INTERACTION
6.1. there are no people we could talk to
6.2. only click on the mouse to get anything
6.3. it could be classify as anti-social
6.4. affect our confident to talk in front many of people
7. NO SALES ASSISTANT
7.1. when you do not have them that you need them most
7.2. might have friends to choose for you but none to suggest what's need and what's not.
8. DELAY OF RECEIVING THE ITEM
8.1. no instant gratification
8.2. have to wait a few days.
8.3. going to the store if I see that the delivery time is too long.
9. ONLINE SECURITY
9.1. is usually safe but not always
9.2. not secure or do not encrypt your personal credit card data
9.3. hacker breaks in their system, your personal data can be compromised.
10. SHOPAHOLIC
10.1. it's so easy to search and purchase different items online
10.2. people end up becoming at-home shopaholics who buy things they actually don't need
10.3. Online shopaholics think they are saving money
10.4. , in reality, it's actually a waste because you don't need those objects in the first place