Web Savvy tool kit
by
susan finkel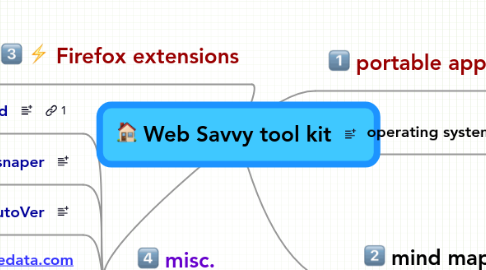 0.0
stars -
0
reviews range from
0
to
5
Web Savvy tool kit
Tools and toolsets that a tester should know about
mind mapping
freemind
freemind.sourceforge.net
VUE
htp://vue.tufts.edu
mindmeister
http://www.mindmeister.com/help
Firefox extensions
Firebug integrates with Firefox to put a wealth of web development tools at your fingertips while you browse. You can edit, debug, and monitor CSS, HTML, and JavaScript live in any web page
edit, debug, monitor css, html, java
YSlow analyzes web pages and tells you why they're slow based on the rules for high performance web sites.
analyzes performance
The Web Developer extension adds a menu and a toolbar to the browser with various web developer tools.
webdeveloper tools
capture fox
You can capture your screen and record your voice to make screencasts
capture screen and record voice
tamper data
TamperData is an extension to track and modify http/https requests  
track and modify http/https requests
Session Manager
saves current states
X-ray
Tags on page
SQL Inject Me
test for SQL Injection vulnerabilities
fire shot
creates screenshots of web pages
misc.
editor for developers
The universal freeware editor
timesnaper
Use this appication as a screen grabber or video recorder.  This way you wont miss something when testing.  This application records screenshots that can be played back as a movie.
screen grabber or video recorder
AutoVer
AutoVer is a configurable, automatic or real time backup and personal versioning system. Great for backing up (or one way syncronising) your work or home documents to flash memory or saving every change you make to your source code or image files.
backup and version control
www.generatedata.com
create test data
PC audit and inventory of software, licenses, security configuration, hardware, network settings...
pc audit and inventory
process monitor
Process Monitor is an advanced monitoring tool for Windows that shows real-time file system, Registry and process/thread activity.
realtime file system | registry | process thread activity
DoubleKiller is a fast and easy to use application for finding and removing duplicate files.
find duplicates
portable applications
PStart is a simple tray tool to start user defined applications. Designed to run portable applications (like portable Firefox & Thunderbird), you can start anything runnable from USB key devices or removable disks.
portableapps.com
http://portablefreeware.com
operating system
New node