How I share course material!
by
Ulrich Schrader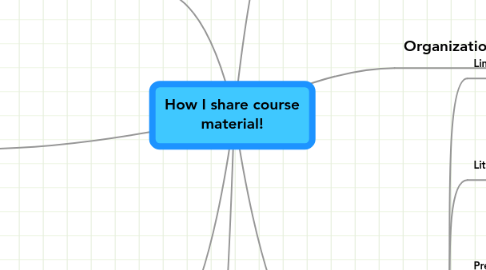 3.0
stars -
1
reviews range from
0
to
5
How I share course material!
What is in it for me?
Discovering new collegues
If you are a specialist the next expert in your field is often at quite a distance. By sharing I am discovered and I discover others.
Building professional network
Exposure to peer review
Comments
Email through contact info
Filtering of web content
My network tells me what is important!
To be informed
Involve students in discovering in building of content
Educational goals
"You can do it too!" by using "free" tools
This also means to use as few restricted (costly) tools as possible.
The world is changing! So are the resources in the course.
Exposure to sharing
Facilitate social constructivism
Facilitate building of student's professional networks
Links
diigo.com (RSS), Groups, Friends, Lists (Topic)
Literature
CiteULike.org (RSS), Groups (Common Library), Friends, Tags
slideshare.net (RSS), Groups, Friends, Tags
Mindmaps
mindmeister.com, Friends (share, collaborate)
News and short texts
info.ulrich-schrader.de (RSS), Tags
Blogger.com (RSS), Tags
Lectures
Podcasts, Feedburner (RSS) -> iTunes, Blogger.com (RSS), Taqs
Screencasts, Blogger.com (RSS), Tags, info.ulrich-schrader.de (RSS), Tags
Open Moodle Courses
Documents
Wikispaces.com (RSS), Groups
Thesis
Open Journals at Really-Nice-Research.de
Use of LMS
LMS - Learning Management System. Refers to systems like WebCT, Blackboard, Moodle, ...
Pro
Organization of course
Tasks
Messaging to students
Messaging between students
Grading
Use of RSS aggregator to pull all services together
Contra
Restricted to students
Small audience
No external input
Course material not available after graduation
Difficult to update several courses
Great examples
Open Courseware Consortium
Organization of content
Groups
Common collection of resources by a group around a common interest.
Friends
Individual collections done by others can be followed.
Lists
Individual collection of resources organized in lists mostly with common topic
Tags
Grouping of resources across users using public keywords (folksonomies)
Projects
Replace copyrighted material
This material has to be kept within the course structure of the LMS (moodle). This prevents some generated sources to be shared.
Build virtual, open courses on my website by aggregating all available open content
This material is still embeded into the courses in the LMS.
Build suggestions for learning paths out of the material.