Information Systems in Global Business Today
by Maria Jose Zambrano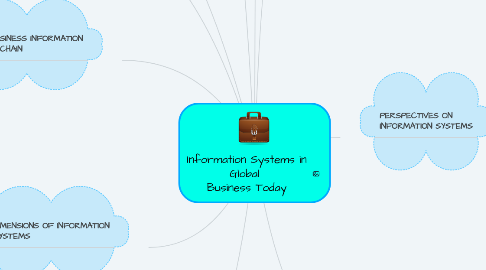 1. THE ROLE OF INFORMATION SYSTEMS IN BUSINESS TODAY.
2. PERSPECTIVES ON INFORMATION SYSTEMS
3. FUNCTIONS OF AN INFORMATION SYSTEM
4. ORGANIZATIONAL CAPITAL AND THE RIGHT BUSINESS MODEL
5. Globalization opportunities
6. STRATEGIC BUSINESS OBJECTIVES OF INFORMATION SYSTEMS
7. WHAT IS AN INFORMATION SYSTEM?
8. DIMENSIONS OF INFORMATION SYSTEMS
9. THE BUSINESS INFORMATION VALUE CHAIN
10. CONTEMPORARY APPROACHES TO INFORMATION SYSTEMS
11. As managers, most of you will work for firms that are intensively using information systems and making large investments in information technology. You will certainly want to know how to invest this money wisely. If you make wise choices, your firm can outperform competitors. If you make poor choices, you will be wasting valuable capital.
12. Internet has drastically reduced costs of operating on global scale
13. Operational Excellence
14. New Products , Services , and Business Models
15. Customer and Supplier Intimacy
16. Improved Decision Making
17. Competitive Advantage
18. Survival
19. Information technology (IT) consists of all the hardware and software that a firm needs to use in order to achieve its business objectives. This includes not only computer machines, storage devices, and handheld mobile devices, but also software, such as the Windows or Linux operating systems
20. An information system can be defined technically as a set of interrelated components that collect (or retrieve), process, store, and distribute information to support decision making and control in an organization. In addition to supporting decision making, coordination, and control, information systems may also help managers and workers analyze problems, visualize complex subjects, and create new products.
21. INFORMATION
22. DATA
23. INPUT
24. PROCESSING
25. OUTPUT
26. FEEDBACK
27. To fully understand information systems, you must understand the broader organization, management, and information technology dimensions of systems and their power to provide solutions to challenges and problems in the business environment. We refer to this broader understanding of information systems, which encompasses an understanding of the management and organizational dimensions of systems as well as the technical dimensions of systems, as information systems literacy. Computer literacy, in contrast, focuses primarily on knowledge of information technology.
28. ORGANIZATIONS
29. TECHNOLOGY
30. MANAGEMENT
31. -Raw data acquired and transformed through stages that add value to that information
32. -Value of information system determined in part by extent to which it leads to better decisions, greater efficiency, and higher profits
33. Awareness of the organizational and managerial dimensions of information systems can help us understand why some firms achieve better results from their information systems than others
34. Technical Approach
35. Behavioral Approach