Ashley Valdez Operating Systems
by Ashley Valdez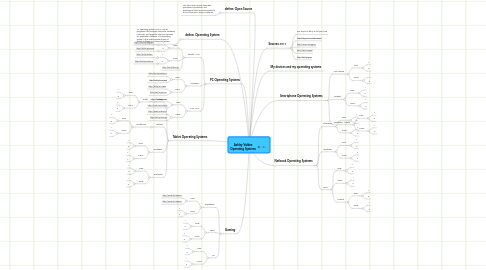 1. define: Open Source
1.1. The term open source describes practices in production and development that promote access to the end product's source materials.
2. define: Operating System
2.1. An operating system (OS) is a set of programs that manages computer hardware resources, and provides common services for application software. The operating system is the most important type of system software in a computer system.
3. PC Operating Systems
3.1. Ubuntu 11.04
3.1.1. Pros:
3.1.1.1. 1
3.1.1.1.1. http://cnet.co/azgY80
3.1.1.2. 2
3.1.1.2.1. http://bit.ly/phX538
3.1.2. Cons:
3.1.2.1. 1
3.1.2.1.1. http://bit.ly/krdz0V
3.1.2.2. 2
3.1.2.2.1. http://bit.ly/omtFKW
3.1.3. http://bit.ly/flNMKJ
3.2. Windows 7
3.2.1. Pros:
3.2.1.1. http://bit.ly/omtFKW
3.2.1.2. http://bit.ly/m4rHqE
3.2.2. Cons:
3.2.2.1. http://bit.ly/o1HBS4
3.2.2.2. http://bit.ly/nnhIiN
3.3. Mac OS X
3.3.1. Pros:
3.3.1.1. http://bit.ly/gEZEF
3.3.1.2. http://cnet.co/nrCkM5
3.3.2. Cons:
3.3.2.1. http://anse.rs/ibcFwf
3.3.2.2. http://bit.ly/nlQYyJ
4. Tablet Operating Systems
4.1. iOS5
4.1.1. iPad2
4.1.1.1. Pros:
4.1.1.1.1. 1
4.1.1.1.2. 2
4.1.1.2. Cons:
4.1.1.2.1. 1
4.1.1.2.2. 2
4.2. Android
4.2.1. Kindle Fire
4.2.1.1. Pros:
4.2.1.1.1. 1
4.2.1.1.2. 2
4.2.1.2. Cons:
4.2.1.2.1. 1
4.2.1.2.2. 2
4.3. Windows7
4.3.1. Pros:
4.3.1.1. 1
4.3.1.2. 2
4.3.2. Cons:
4.3.2.1. 1
4.3.2.2. 2
4.4. Dual Boot
4.4.1. Pros:
4.4.1.1. 1
4.4.1.2. 2
4.4.2. Cons:
4.4.2.1. 1
4.4.2.2. 2
5. Gaming
5.1. Playstation
5.1.1. Pros:
5.1.1.1. http://amzn.to/4lwxu9
5.1.1.2. http://amzn.to/4lwxu9
5.1.2. Cons:
5.1.2.1. 1
5.1.2.2. 2
5.2. XBox
5.2.1. Pros:
5.2.1.1. 1
5.2.1.2. 2
5.2.2. Cons:
5.2.2.1. 1
5.2.2.2. 2
5.3. Wii
5.3.1. Pros:
5.3.1.1. 1
5.3.1.2. 2
5.3.2. Cons:
5.3.2.1. 1
5.3.2.2. 2
6. Sources 2011
6.1. use tinyurl or bit.ly to list your links
6.2. http://tinyurl.com/3bmo86d
6.3. http://amzn.to/qjg75j
6.4. http://bit.ly/Z9qkl
6.5. http://bit.ly/opID
7. My devices and my operating systems
8. Smartphone Operating Systems
8.1. iOS/ iPhone
8.1.1. Pros:
8.1.1.1. 1
8.1.1.2. 2
8.1.2. Cons:
8.1.2.1. 1
8.1.2.2. 2
8.2. Android
8.2.1. Pros:
8.2.1.1. 1
8.2.1.2. 2
8.2.2. Cons:
8.2.2.1. 1
8.2.2.2. 2
8.3. Windows 7 Mobile
8.3.1. Pros:
8.3.1.1. 1
8.3.1.2. 2
8.3.2. Cons:
8.3.2.1. 1
8.3.2.2. 2
9. Netbook Operating Systems
9.1. Chromium
9.1.1. Pros:
9.1.1.1. 1
9.1.1.2. 2
9.1.2. Cons:
9.1.2.1. 1
9.1.2.2. 2
9.2. Windows7
9.2.1. Pros:
9.2.1.1. 1
9.2.1.2. 2
9.2.2. Cons:
9.2.2.1. 1
9.2.2.2. 2
9.3. Linux
9.3.1. Pros:
9.3.1.1. 1
9.3.1.2. 2
9.3.2. Cons:
9.3.2.1. 1
9.3.2.2. 2
9.3.3. MeeGo
9.3.3.1. Pros:
9.3.3.1.1. 1
9.3.3.1.2. 2
9.3.3.2. Cons:
9.3.3.2.1. 1
9.3.3.2.2. 2