Gilbert Diaz Operating Systems
by Gilbert Diaz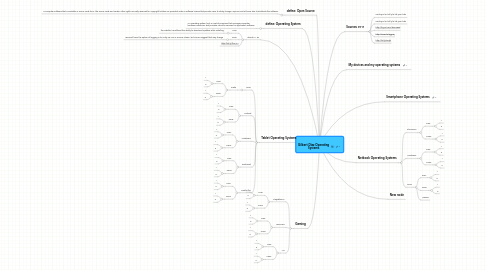 1. Ubuntu 11.04
1.1. Pros:
1.1.1. the installer has offered the ability to download updates while installing
1.2. Cons:
1.2.1. users will have the option of logging in to Unity 3D, 2D or Gnome classic, but rumors suggest that may change
1.3. http://bit.ly/flNMKJ
2. Sources 2011
2.1. use tinyurl or bit.ly to list your links
2.2. use tinyurl or bit.ly to list your links
2.3. http://tinyurl.com/3bmo86d
2.4. http://amzn.to/qjg75j
2.5. http://bit.ly/Z9qkl
3. Smartphone Operating Systems
4. define: Operating System
4.1. An operating system (OS) is a set of programs that manages computer hardware resources, and provides common services for application software.
5. define: Open Source
5.1. Is computer software that is available in source code form: the source code and certain other rights normally reserved for copyright holders are provided under a software license that permits users to study, change, improve and at times also to distribute the software.
6. Tablet Operating Systems
6.1. iOS5
6.1.1. iPad2
6.1.1.1. Pros:
6.1.1.1.1. 1
6.1.1.1.2. 2
6.1.1.2. Cons:
6.1.1.2.1. 1
6.1.1.2.2. 2
6.2. Android
6.2.1. Pros:
6.2.1.1. 1
6.2.1.2. 2
6.2.2. Cons:
6.2.2.1. 1
6.2.2.2. 2
6.3. Windows7
6.3.1. Pros:
6.3.1.1. 1
6.3.1.2. 2
6.3.2. Cons:
6.3.2.1. 1
6.3.2.2. 2
6.4. Dual Boot
6.4.1. Pros:
6.4.1.1. 1
6.4.1.2. 2
6.4.2. Cons:
6.4.2.1. 1
6.4.2.2. 2
6.5. Kindle Fire
6.5.1. Pros:
6.5.1.1. 1
6.5.1.2. 2
6.5.2. Cons:
6.5.2.1. 1
6.5.2.2. 2
7. Netbook Operating Systems
7.1. Chromium
7.1.1. Pros:
7.1.1.1. 1
7.1.1.2. 2
7.1.2. Cons:
7.1.2.1. 1
7.1.2.2. 2
7.2. Windows7
7.2.1. Pros:
7.2.1.1. 1
7.2.1.2. 2
7.2.2. Cons:
7.2.2.1. 1
7.2.2.2. 2
7.3. Linux
7.3.1. Pros:
7.3.1.1. 1
7.3.1.2. 2
7.3.2. Cons:
7.3.2.1. 1
7.3.2.2. 2
7.3.3. MeeGo
8. My devices and my operating systems
9. Gaming
9.1. Playstation 3
9.1.1. Pros:
9.1.1.1. 1
9.1.1.2. 2
9.1.2. Cons:
9.1.2.1. 1
9.1.2.2. 2
9.2. XBox 360
9.2.1. Pros:
9.2.1.1. 1
9.2.1.2. 2
9.2.2. Cons:
9.2.2.1. 1
9.2.2.2. 2
9.3. Wii
9.3.1. Pros:
9.3.1.1. 1
9.3.1.2. 2
9.3.2. Cons:
9.3.2.1. 1
9.3.2.2. 2
10. New node