Social Media: Where the students are talking
by
Betsy Soler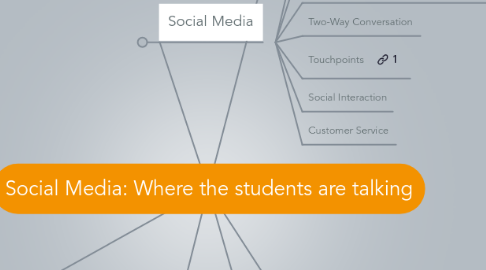 0.0
stars - reviews range from
0
to
5
Social Media: Where the students are talking
Facebook
News Feed, Top and recent stories, Edgerank, Advertisements, Suggestions, Social Graph
FIU's Facebook Page, Landing Page is wall, Pic of the Week, Student Questions, Facebook Place
Twitter
Basics, @, RT's
Search FIU & Florida International University
Hashtags
YouTube
Highlighted Video
Uploads, Lists
Student Videos
World's second largest search engine
Sharing
Foursquare
Geo-location
Mobile App
University 4sq page
Tumblr
Multimedia, Text, Photo, Quote, Link, Chat, Audio, Video
Student Posts
Questions
Curating Content
Tags
Flickr
Search
Organize Photos
Internal vs. External use
LinkedIn
Personal Use
Groups
Jobs
Livestream
Commencement
Best Practices
Picking a student leader
Get familiar with terms of service
Make a Facebook Fan Page vs. Personal Profile
How to answer student questions
News
Technology
Two-Way Conversation
Social Interaction
Customer Service
Resources
HigherEd Live
Student affairs live on Wednesdays at 4 p.m. EST with Eric Stoller
Largest news outlet on social mediaPartnership with CNN
#SAchat
Student Affairs Collaborative blog and community have a chat every Thursdays from 1-2 p.m. EST
Branding
Language
Worlds Ahead
Logo
Budget
Tools
ROI
Student Retention
Social Media Strategy Aligning with university and department goals and objectives Art Thieves- Dream big or don't bother- Know what people (audience) like- Simple plans are the best - Pic of the Week- Sweat the details- Recognize you can't control everything- Think about the day after. Thieves don't get caught stealing, they get caught selling their art work. 
Decentralization vs. Centralization
Centralized, Establish a strong voice, Prevents former employees from letting social eco systems die, Multi-faceted community
Decentralized, Ability to join focused conversations, Empowering different departments, employees to understand and join the conversation, No communication between departments
Hub & Spoke, One main hub and several spokes with segmented focuses, If structured properly, it combines the best of both worlds.
Content Strategy
Roadmap to creating and maintaining content their audience really cares about
Content Analysis, Gap analysis
User Experience
Key Themes and messages
Personal vs. Company
news.FIU.edu
Thoughtful and provoking stories
Original Content
Student, faculty and staff blogs
calendar.FIU.edu
Two to three sentences on the who, what, where and why.
Appears on the homepage
Mobile App