Social Media: Where the students are talking
by
Betsy Soler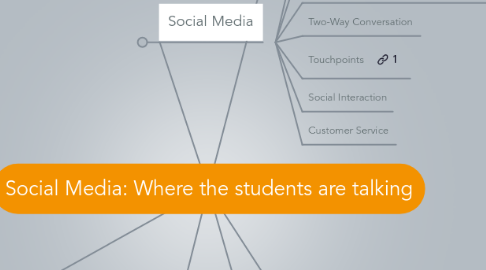 0.0
stars - reviews range from
0
to
5
Social Media: Where the students are talking
Facebook
Twitter
YouTube
Foursquare
Tumblr
Flickr
LinkedIn
Livestream
Best Practices
Picking a student leader
Get familiar with terms of service
How to answer student questions
News
Technology
Two-Way Conversation
Social Interaction
Customer Service
Resources
HigherEd Live
Student affairs live on Wednesdays at 4 p.m. EST with Eric Stoller
Largest news outlet on social mediaPartnership with CNN
#SAchat
Student Affairs Collaborative blog and community have a chat every Thursdays from 1-2 p.m. EST
Branding
Budget
Tools
ROI
Student Retention
Social Media Strategy Aligning with university and department goals and objectives Art Thieves- Dream big or don't bother- Know what people (audience) like- Simple plans are the best - Pic of the Week- Sweat the details- Recognize you can't control everything- Think about the day after. Thieves don't get caught stealing, they get caught selling their art work. 
Decentralization vs. Centralization
Content Strategy
Personal vs. Company
news.FIU.edu
calendar.FIU.edu
Two to three sentences on the who, what, where and why.