Creative Commons for Open Culture
by
Helen Baxter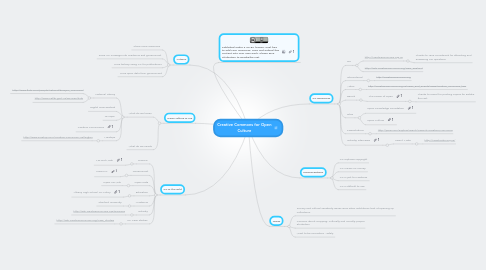 5.0
stars -
3
reviews range from
0
to
5
Creative Commons for Open Culture
Retake the Net Barcamp 29/10/11, Wellington, New Zealand
CC Resources
NZ
http://creativecommons.org.nz, Thanks to Jane Hornibrook for attending and answering our questions
http://wiki.creativecommons.org/New_Zealand
International
http://creativecommons.org
Video
http://creativecommons.org.nz/news_and_events/news/creative_commons_kiwi
eBook
The Power of Open, Thanks to David for printing copies for Retake the Net.
Sites
Open Knowledge Foundation
Open Culture
Presentations
http://prezi.com/explore/search/?search=creative+commons
New It Make, http://newitmake.org.nz/
Misconceptions
CC replaces copyright
CC means no money
CC is just for creatives
CC is difficult to use
CC in the wild
Science
Mix and Mash
Government
NZGOAL
Open Data
Open NZ Wiki
Education
Albany High School CC Policy
Academia
Stanford University
Industry
http://wiki.creativecommons.org/Business
CC Case studies
http://wiki.creativecommons.org/Case_Studies
Open culture in NZ
What do we have?
National Library, http://www.flickr.com/people/nationallibrarynz_commons/, http://www.natlib.govt.nz/services/data
Digital New Zealand
Te Papa
Creative Commoners
Meetups, http://www.meetup.com/Creative-Commons-Wellington
What do we need?
Actions
Share more resources
Drive CC message into academia and government
More tertiary using CC for publications
More open data from government
Issues
Privacy and cultural sensitivity issues arise when institutions look at opening up collections.
Concern about cropping, culturally and morally, proper atrubution
Want to be innovative - safely