Strategy as a consistency process? (Emergent/deliberate process) (Mintzberg and Waters 1998)
by Mari Cruz Garc'ia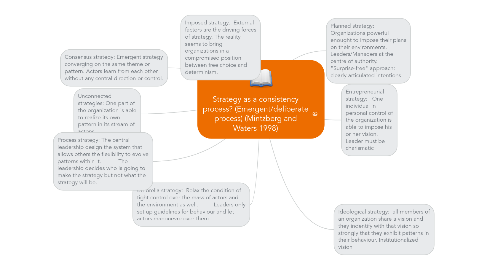 1. Umbrella strategy: Relax the condition of tight control over the mass of actors and the environment as well. Leaders only set up guidelines for behaviour and let actors manouevre over them.
2. Planned strategy: Organizations powerful enought to impose their plans on their environments. Leaders/Managers at the centre of authority. "Surprise-free" approach: clearly articulated intentions
3. Ideological strategy: all members of an organization share a vision and they indentify with that vision so strongly that they exhibit patterns in their behaviour. Institutionalized vision
4. Entrepreneurial strategy: One individual in personal control of the organization is able to impose his or her vision. Leader must be charismatic
5. Unconnected strategies: One part of the organization is able to realize its own pattern in its stream of actons.
6. Process strategy: The central leadership design the system that allows others the flexibility to evolve patterns within it. The leadershio decides who is going to make the strategy but not what the strategy will be.
7. Consensus strategy: Emergent strategy converging on the same theme or pattern. Actors learn from each other without any central direction or control.
8. Imposed strategy: External factors are the driving forces of strategy. The reality seems to bring organizations in a compromised position between free choice and determinism.