Implicit Grammar Teaching: DO´s and DON´T´s (Part I)
by Liliana Villero Ariza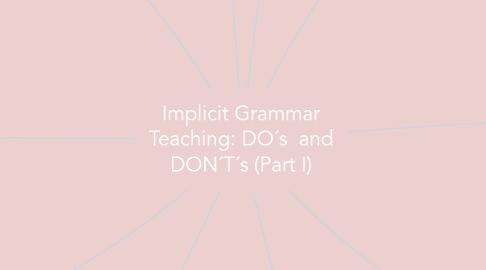 1. 1. USE QUESTIONS, NOT STATEMENTS
1.1. DO: Ask questions all the time.
1.1.1. Write real past tense sentences then ASK: What is different? What do you see that is similar ? What is this ?
1.2. DON´T: make statements, i.e . lecture.
1.2.1. Here are five past tense : This is the subject , right? ; This is the verb , right ?
2. 2. USE AUTHENTIC CONTEXTS AND INFORMATION
2.1. DO: Use authentic information that directly comes from you and especially from.
2.1.1. The teacher tell of the things you enjoy doing and love to do ? writes full sentences students say on the board. asks: which are gerunds? how do you know?
2.2. DON´T: Look in the book.
3. 3.FORGET THE GRAMMAR BOOK (MOSTLY)
3.1. DO: fun opener, whitout opening the grammar book info gap game a find someone who (use the grammar book for wrap-up, reinforcement.
3.2. DON´T: Avoid using the books as much as possible. it is not real , it is a source book.
4. 4. LET STUDENTS DISCOVER THE GRAMMAR - NO SPOILERS
4.1. DO: Present grammar points as puzzles that need to be solved with logic.
4.1.1. create a mini grammar- mistery.
4.2. DON´T: do grammar ´data dumps´
5. 5. KEEP IT SIMPLE AND FOCUSED
5.1. DO: Focus on yes/no questions about the students .
5.1.1. Who can touch their toes? Who can´t touch their toes?
5.2. DON´T: Model all the forms at once ( as the book does)
5.2.1. they will be overloaded and confused.
6. 6.CORRECT ERRORS COMPASIONATELY
6.1. DO: Gather errors during class activities .
6.1.1. have the students fix them with you, whitout saying who made the error.
6.2. DON´T: Embarrass, humillate. correct everything.
7. 7. MODEL MODEL MODEL!
7.1. DO: Take the role of the student . can see what you want.
7.2. DON´T : Give instructions about how to do the activity.
8. 8. REALIA BLUES
8.1. DO: Use authentic real examples of the grammar point.
8.1.1. Real labels, boxes,cartoons etc
8.2. DON´T : Teach words, groups or lists of words.
9. 9. GET STUDENTS TO USE GRAMMAR OUTSIDE OF CLASS
9.1. DO: Have students go to a park and write down what people are doing at that time.
9.2. DON´T: Avoid worksheets.
10. 10. HAVE FUN!
10.1. DO: make every activity or task fun. get students to buy in and enjoy the process!
10.1.1. Uses small cards and play memory with chore pictures.
10.2. DON´T : Make things abstract!
10.2.1. Ask yourself every grammar class: am i having a good time? ; are the students having fun ?