Starting A Law Firm
by
Carolyn Elefant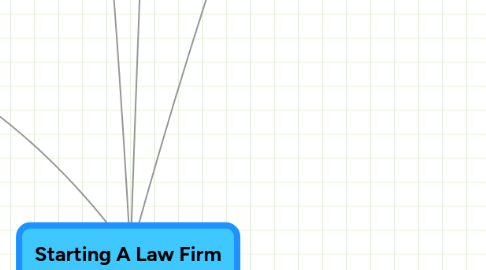 5.0
stars -
6
reviews range from
0
to
5
Starting A Law Firm
Where To Locate?
Work for Space
Pros/Cons, You don't generate revenue, If desperate, may be good in short term, Lessor generally gets better bargain
How to Find?, Ask around, Do due diligence on arrangement
How many hrs. req'd?
Is value you give > cost of lease?
Does lessor want to help, or rip you off?
Virtual Space
Pros/Cons, Can be costly if used many hrs., Pay for only what you need, More attractive space than could otherwise afford, Space can be generic
How to Find?, Online, Other lawyers
Home Office
Pros/Cons, Cheap, Convenient, May be hard to discipline to work at home, Some still look askance
Other Issues, To tell or not to tell?, Where to meet clients?, Courthouse, At their place, Go completely virtual, Does bar allow completely virtual firm?, Separation work/life, Use separate space, Separate phone, office equip., Use home address?, can use PO Box, use virtual address, Decision depends on practice, Staff?, Use virtual workers, Can others work in your house?
Rent Space
Pros/Cons, Can be costly, Can make good impression, Can get overflow work, May be inconvenient for lawyer/parents
How to Find, Craigs List, Bar Journal, Leads from other lawyers
How long is the lease?
Can I afford it?
Will it help generate clients?
Do I need it for discipline?
What's the best location?, Close to court?, Close to clients?, Roadside visibility?
Sharing Space, With other lawyers?, Will they steal your clients?, Overflow work potential, With client?, Good work potential, Possible conflicts?, With former firm?, Convenient, Awkward?, Malpractice Considerations, Protect Client Confidentiality, Is there appearance of one uniform firm (as opposed to several subtenants?)
Bar Requirements
Do you need to be licensed where your office is located?
Do you need a physical office in the jurisdiction where you are barred?
Other Bar Admission
Do you need to take an exam?
How much does waive-in cost?
Will it generate new business?
Do you need it?(e.g., federal practice may not)
Do you know lawyers who can help pro hac vice?
Can you work virtually in one state, while physically residing elsewhere? Which bar must approve (state where you practice or state where you reside?)
Corporate Structure
Sole proprietor
Easy
Is it professional?
LLC
Easy
Same taxes as individ.
Added liability shield (except for professional malpractice)
Some states don't allow LLC for lawyers
Can look more professional
Partnership
Consider for more than one
How to structure
Corp./PC
Added liability shield, New node
More complex?
Req'd by bar?, New node
Malpractice Insurance
Is going bare an option?
Choices
amt. coverage
Amt. deductible
Defense Costs
Tail coverage
Where to find?
Other attny recommend
Broker
Internet searches
Does your practice area increase coverage costs?
Bank Accounts
Operating Account
IOLTA Account
Do you need it?, Will hold money in trust?, Only taking flat fees or post-work payment, Due Diligence, reputation of company, security of data, Fall back (what if company goes out of business?, Does bar treat flat fees as fee earned or money to be held in client trust?
Credit Cards
Will bar allow credit cards?
Will bar allow PayPal?
Do you need merchant account?
How will you handle chargeback?
Does credit card payment go into trust acct. if for retainer?
What laws and/or bar rules govern security for holding client credit card numbers?
Accounting Support
What accounting software?, Online?, Desk based, Trust acct. balancing features?, Compatibility w/other practice management tools
Freelance bookeeper, Where to find?, Other attnys, Assns. of legal virtual assistants, Craigs' List, New noe
Legal Research
Does bar offer free tools?
Fastcase?
Casemaker?
Versuslaw
What are your needs?
1 state only?
All fed/state library?
Options
Lexis/Westlaw, First rate, pricey, Negotiate/aggregate w/others for discount, Is per diem service available?
Free kiosks, inconvenient, High quality for free
Alternatives, Examples, Fastcase, Casemaker, Versuslaw, Loislaw, Pros/cons, cheap, quality varies, coverage limited, Flexible plans - no lock in, New node, ask for free trials to test
Practice Management Tools
Desktop Based
Pros, Tried & True, One time payment, Designed w/lawyers' needs in mind
Cons, Becoming obsolete, May need to pay $$s for experts to install, Need to reinstall to upgrade - time consuming
Software as a Service
Wave of the future
Monthly cost, can be more expensive
Automatically upgrades w/out reinstall
Legal v. Non-Legal
Non-legal apps cheap or free
Does non-legal have adequate security?
Does non-legal app have different terminology?
Functions
Calendar
Contact management
Conflict checks
Invoicing/Billing
Time keeper
Office Equipment
Printer
Combo tool
How important is expensive printer if you are paperless?
Copier
Kinkos/outsource for large jobs
Scan/copy?
Desktop models
Scanner
Necessary for paperless
Can use as substitute for copier
Fax
Stand alone/combo w/printers?
Efax service
Back Up
Online
Dual computers
External Harddrive
Phone
VOIP
Landline
Cellphone
PDA/SmartPhone
Pros/Cons, Convenient, one place for multiple tools, Calendar, Internet/email, Contact management
Iphone
Android
Blackberry
WebHost/email
Software
Wordprocessing, MS Word, WordPerfect, Open Office, Google Docs
Adobe, Standard for efiling, imperative for paperless office, useful for forms
Practice specific, e.g., Casesoft (litigation), Doc/filing prep (estates, bankruptcy, etc...)
Computers
What can you repurpose?
Options, Laptop, Desktop, PC, Mac, Subnotebook
What are your goals?, Mobility, System for large staff
Presence
Business Cards
Handmade
Local Printer
Online Order
Web Presence
Social Media Profile, Justia, AVVO, LinkedIn, Facebook Firm Page
Self Created, Website, DIY, Designer, Blog, DIY, Blogger, Wordpress.com, TypePad, Designer