Preliminary conclusions want to work in 1) analytical/research/writing capacity 2) with team, not alone 3) focus on finance/investments 4) can be in UK, Hong Kong, Penang
by Michelle Auger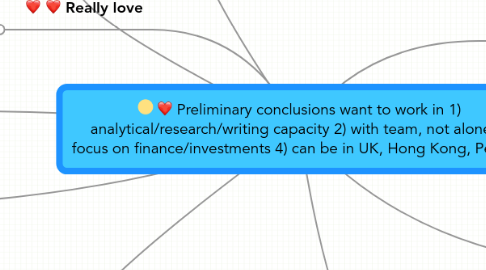 1. Really Dislike
1.1. Politics and infighting
1.2. Hierachy
1.2.1. BEWARE THESE EXIST IN SMALL AND LARGE ORGANISATIONS
1.3. NO to Middle east - no respect for the female of the species (Lebanese ok, no arab)
2. Really love
2.1. Languages
2.2. People (and esp good looking folks but not models and cheerleaders...)
2.3. Communication/interaction
3. Really Good at...
3.1. Telling a story
3.1.1. WHERE CAN I DO THIS? SWF? P/E? AM?
3.2. Doing the research to ensure the integrity of the story
3.3. Analysing a situation, understanding it and be able to present it in simple terms
3.4. Ideas / what story to tell. What angle to use/ good instincts
4. What I am like
4.1. Weird sense of humour
4.2. Dance
5. Where I want to work
5.1. London(very short term) max only 2-4 yrs
5.2. Hong Kong, France, China (Good french/chinese food) need a place with SOUL
5.2.1. International environment - not all Chinese, or all British etc
5.3. somewhere with discipline, PRIVATE? and where I can make a difference
6. Retire to?
6.1. penang? France? (Paca)
7. Who i want to work with
7.1. Smart people. People who inspire me, whom I can help in turn.
8. The Bottom Line
8.1. ideally $50k fcf pa by the time i'm 50?
8.2. £50k pa for next job?
9. Long term
10. What I want to do
10.1. Hybrid of marketing & research/research tempered with commercial edge