GUMS &STABILIZERS
by ANG MIN ING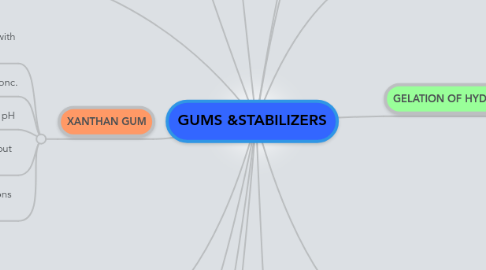 1. STRUTURES
1.1. high MW polymers
1.1.1. long sugar chain
1.1.2. substituent protruding from main chain
1.1.2.1. carboxy COOH,COO-
1.1.2.1.1. pectin, alginate, xanthan, arabic
1.1.2.2. methyl ester COOCH3
1.1.2.2.1. pectin
1.1.2.3. sulfate OSO3-
1.1.2.3.1. carragenenan
1.1.2.4. acetyl
1.1.2.4.1. gellan,pectin, konjac, chitosan
1.1.2.5. mannose C6H12O6
1.1.2.5.1. guar, LBG, tara
1.1.2.6. carboxymethyl OCH2COOH
1.1.2.6.1. cellulose gum
1.1.2.7. methyl ether OCH3
1.1.2.7.1. methylcellulose
1.2. Degree of substitution DS
1.2.1. Higher DS - faster to hydrate
1.2.2. Lower DS - slower to hydrate
1.3. Degree of polymerization DP
1.3.1. Higher DP - higher viscosity, slower to hydrate
1.3.2. Lower DP - lower viscosity,faster to hydrate
2. FUNCTIONS
2.1. Thickening agents
2.2. Gelling or texturizing agents
2.3. Stabilisation of emulsion
2.4. Suspension of particulants
2.5. Control of crystallisation
2.6. Encapsulation
2.7. Formation of film
3. FACTORS AFFECT GUM PROPERTIES
3.1. Molecular weight
3.2. Monosaccharide composition
3.3. side chains
3.3.1. type
3.3.2. number
3.3.3. distribution
4. GELATION OF HYDROCOLLOIDS
4.1. gelling on
4.1.1. heating
4.1.2. cooling
4.1.3. presence of cations
4.1.4. acidic pH + high sugar conc.
4.1.5. alkaline pH
4.2. thermoreversible (gel formed on heating or cooling and the process is reversiblle)
4.2.1. gelatin, agar,kappa carrageenan,LM pectin, gellan gum, methyl cellulose, HPMC
4.3. thermally irreversible
4.3.1. alginates, strach, konjac, HM pectin
5. MAIN CLASSES OF HYDROCOLLOIDS
5.1. derivatives from exudation or sap of trees
5.1.1. cellulose, gum arabic, gum karaya, gum ghatti, gum tragacanth
5.2. extract from seed
5.2.1. guar gum, LBG, tara gum, tamarind gum
5.3. extract from seaweeds
5.3.1. agar, carrageenan
5.4. microbial gums
5.4.1. xanthan, dextrun,curdlan
5.5. extract from tubers
5.5.1. konjac
5.6. extract from plant parts
5.6.1. starch, pectin, cellulose
6. PECTIN
6.1. * Derived from the peel of citrus fruits * Natural form : protopectin (insoluble) * Chain of polygalacturonic acid- partially esterified as methyl esters
6.1.1. High Methoxy Pectin (HMP)
6.1.1.1. * DE---58% to 75%
6.1.1.2. * to form gel, soluble solid content 55-85%, pH 2.8-3.8. (e.g. jam and jellies)
6.1.1.3. * ultrarapid/rapid set (DE as high as 77)---used in jam with whole fruits, to ensure uniform distribution of fruits particles.
6.1.1.4. * slow set (DE~58) ---used in very acid fruits such as blackcurrant to avoid premature gelation.
6.1.2. Low Methoxy Pectin (LMP)
6.1.2.1. DE < 50% — two sub-groups: Conventional low methoxyl pectin (LMP) and Amidated low methoxyl pectin (ALMP)
6.1.2.2. Form gels in the presence of Ca2+, with a low solids content & wide pH range (1-7) [but soluble solids can be up to 85%]
6.1.2.3. LMP – less Ca2+ reactive than ALMP ⇒ used as a thickening agent in yoghurt fruit
6.1.2.4. ALMP – very Ca2+ reactive ⇒ assist gelation in low sugar fruit preparations, e.g. low-sugar jams & jellies
7. GUAR GUM
7.1. Derived from guar (Cyamopsis tetragonolobus) seeds, this long, rigid, linear molecule of beta-1,4-D-galactomannans with alpha-1,6-linked D-galactose.
7.2. This galactomannan is soluble in cold water, hydrating quickly to produce viscous pseudoplastic solutions that, although shear-thinning, generally have greater low-shear viscosity than other hydrocolloids.
7.3. It is stable over a wide pH range, but will degrade at pH extremes at high temperature. The molecules' interfacial binding allows guar to act as an emulsifier
7.4. Guar gum binds water and retards ice-crystal growth.
8. XANTHAN GUM
8.1. Polysaccharides produced from fermentation of CHO substrate with Xanthomonas campestris
8.2. Completely soluble in cold water & produce high viscosity at low conc.
8.3. Excellent stability to heat & pH
8.4. pseudoplastic (shear-reversible) over broad shear rate and concentration ranges, but imparts a stringy texture.
8.5. used to thicken and stabilize emulsions, foams and suspensions in applications including sauces and dressings
9. CELLULOSE DERIVATIVES
9.1. Alkaline treatment convert cellulose into an ether
9.2. Clear solution & stable over pH4-10
9.3. Use for thickening, suspending, stabilizing & modify flow characteristics
9.4. Examples: carboxymethylcellulose (CMC) , hydroxypropylmethylcellulose (HPMC)
9.5. Methylcellulose (MC) & HPMC gel when heated & return to their original liquid viscosities when cooled.
9.6. Use in fried foods- barrier to oil absorption, stop loss of moisture & improve adhesion of batter
10. CARRAGEENAN
10.1. - Carrageenan is a highly refined extract of seaweed from the rhodophyta family. - Chemically its composition is a long chain of galactose residues linked, resulting in a long chain of high molecular weight.
10.1.1. Kappa (K-carrageenan)
10.1.1.1. thermoreversible gel
10.1.2. Lambda (ɻ-carrageenan)
10.1.2.1. does not form gel
10.1.3. Lota (ɩ-carrageenan)
10.1.3.1. thermoreversible gel
11. ALGINATE
11.1. Derived brown seaweed (Laminaria hyperborea)
11.2. Made up of blocks of Dmannuronic acid (M-blocks) & Lguluronic acid (G-block)
11.3. heat- and freeze/thaw-stable
11.4. can be prepared at very low solids and low temperatures with moderate shear
11.5. Provide stabilizing effect in frozen products
11.6. particularly useful in the formulation of restructured fruits and vegetables
11.7. Act as thickener & stabilizer in beverage
11.8. Propylene glycol alginate esterified form of alginate has emulsification property commonly used as stabilizer in emulsions
12. GUM ARABIC
12.1. Sap exuded from various species of Acacia trees
12.2. Polysaccharide contain galactose, rhamnose, arabinopyranose, arabinofuranose, glucoronic acid
12.3. least viscous and most soluble of all hydrocollods-up to 55%solid concentration can be used
12.4. promote stabilisation in beer foam
12.5. Encapsulation agent
12.6. Emulsifier and stabilizer in soft drink emulsion
12.7. Confectionery products – to retard sugar crystallization and promote emulsification
13. LOCUST BEAN GUM
13.1. Come from seed of the leguminose Ceratonia siliqua
13.2. Galactomannan gums
13.3. Insoluble in cold water & must be heated to dissolve
13.4. Does not form a gel by itself- gel when combined with xanthan gum
13.5. Primary functions: thickening, stabilization of emulsions, inhibition of syneresis
13.6. used in canned foods, sauces, desserts, ice-cream, processed meat
14. GELATIN
14.1. edible natural foodstuff
14.2. raw material used---skin (pigskin and hide split) and bone taken from slaughtered animals
14.3. collagen contained in raw materials is starting material for manufacture of gelatin
14.4. type A---derived from acid processed materials (porkskin)
14.5. type B---derived from alkaline or lime processed materials (calf hides,ossein)
14.6. forms thermally eversible gel wit water
14.7. melting temperature <35 degree celcius---give the melt-in-mouth properties, rapid release of aroma
14.8. used in gelled jelly, yogurt, fruit iuices, top quality ice-cream and frozen produts, gummy bears, etc.
14.9. FUNCTIONS
14.9.1. gel formation
14.9.2. water binding
14.9.3. texturizing
14.9.4. thickening
14.9.5. emulsion formation and stabilisation
14.9.6. foam formation and stabilisation
14.9.7. film formation
14.9.8. adhesion/cohesion
14.9.9. protective colloidal function