Kromosomer og den genetiske koden
by Jonas Evertsen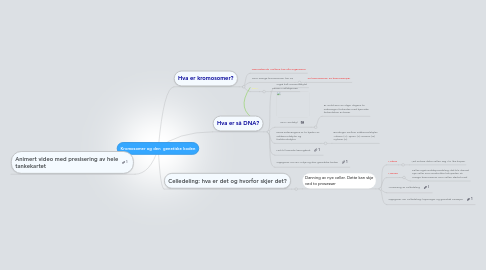 1. Hva er kromosomer?
1.1. Genmateriale i cellene hos alle organismer
1.2. Hvor mange kromosomer har vi?
1.2.1. 46 kromosomer, 23 kromosompar
1.3. DNA
1.3.1. Finnes i cellekjernen
2. Hva er så DNA?
2.1. Også kalt arvemolekylet
2.2. DNA-molekyl
2.2.1. Er vridd som en stige, stigens to sidevanger forbindes med kjemiske forbindelser av baser
2.3. Disse sidevangene er to kjeder av sukkermolekyler og fosfatmolekyler
2.3.1. Bindinger mellom sukkermolekyler: Adenin (A), Tymin (T), Guanin (G) Cytosin (C)
2.4. Link til levende læringsbok
2.5. Oppgaver om arv, miljø og den genetiske koden
3. Celledeling: hva er det og hvorfor skjer det?
3.1. Danning av nye celler. Dette kan skje ved to prosesser
3.1.1. Mitose
3.1.1.1. Ved mitose deler cellen seg i to like kopier
3.1.2. Meiose
3.1.2.1. Kalles også reduksjonsdeling: det blir dannet nye celler som inneholder halvparten så mange kromosomer som cellen startet med
3.1.3. Animering av celledeling
3.1.4. Oppgaver om celledeling, krysninger og genetisk variasjon
4. Animert video med presisering av hele tankekartet