THE ARTICLES A - AN
by gloris gomez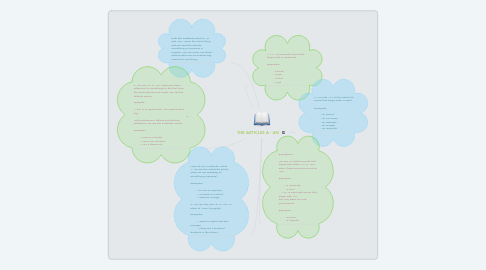 1. Uses Of The Indefinite Article 1. We use the indefinite article when we are speaking of something in general. Examples: - He has a computer. - We work in a school. - I want an orange. 2. We can also use "a" or "an" in place of "one" (singular). Examples: - I want an apple and two oranges. - There are a hundred students in the school.
2. Both the indefinite articles, "a" and "an", mean the same thing and are used to indicate something or someone in singular. We can never use these articles when we are referencing more than one thing.
3. 3. We use "a" or "an" when we make reference to something for the first time; the next reference we make, we use the definite article. Example: - I live in an apartment. The apartment is big. 4. With professions, offices and political affiliations, we use the indefinite article. Examples: - Maria is a doctor. - Juan is an architect. - I am a democrat.
4. 1. "A" is used with nouns that begin with a consonant. Examples: - a book - a pen - a chair - a girl
5. 2. We add "-n" to the article for nouns that begin with a vowel. Examples: - an animal - an ice cream - an example - an orange - an umbrella
6. Exceptions: We use "a" before words that begin with either "u" or "eu" when these are pronounced as "yu". Examples: - a university - a euro "An" is used with words that begin with "h", but only when it is not pronounced. Examples: - an hour - a hospital