REGONAL INTEGRATION THEORIES
by nurul jaffar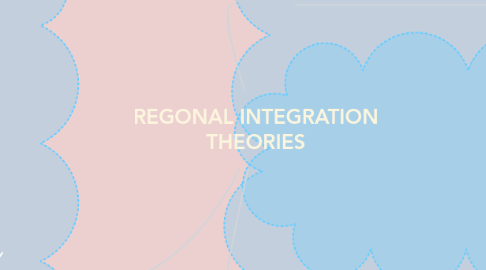 1. FEDERALIST THEORY
1.1. Introduce by Carl J. Friedrich
1.2. The HIGHER the level of political will exists, the HIGHER the probability of a federal system to exist.
1.3. Characteristics
1.3.1. Establish huge Federal Government institution
1.3.1.1. Example: European Union,EU is where 27 democratic countries integrate and create a newly emerging entity.
1.3.2. Establishes Central Political Institution
1.3.2.1. These institutions will perform the functions of branches of federal government.
1.3.3. Surrender its sovereignty and decision making power
1.3.3.1. Member delegate sovereignty to common institutions that represent interest of Union.
1.3.4. Every single policy formulated, binds all member
1.3.4.1. All members countries have to agree to the law.
1.3.4.2. Law made by the Union will be binding and will override members' own laws.
1.3.5. Political elites who shares a collective purpose and needs
1.3.5.1. Either the President or the Prime Minister who initiated the motivation towards integration.
2. NEO-FUNCTIONAL THEORY
2.1. Introduce by Ernst B.Haas, Philippe C. Schmitter and Leon L. Linberg
2.2. The MORE frequent these two are present, the MORE LIKELY a full regional integration can take place.
2.3. Characteristics
2.3.1. A process over the time among political elites in transferring political activity to the newly created institution
2.3.2. Political elites are forced to shift their values in decision making (INCREAMENTALISM)
2.3.2.1. There was a shift in decision making process among the Head Of Government
2.3.3. 'Spillover' motivated to Integration
2.3.3.1. Countries integrate to enlarge further scopes of functional cooperation
3. TRANSACTION THEORY
3.1. Introduce by Karl W. Deutsch
3.2. The HIGHER the level of communication transactions, the HIGHER the level of probability of integration taking place.
3.3. Characteristic
3.3.1. Integration does not place importance on political institutionalization
3.3.1.1. Creation of an institution is not necessary
3.3.2. Integration will take place solely based on increase rate of transection it promotes a sense of community among member's countries
3.3.2.1. There is no evidence that integration will occur solely because of increase in rate of transaction in such variables of trade, visit and mail.
3.3.3. Trust and responsiveness Concept
3.3.3.1. Not occurring in this modern and challenging environment.