Pyramids around the world
by
Carlos Fernandez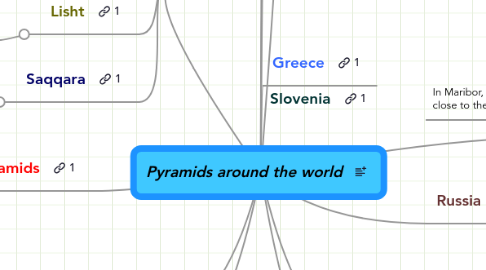 0.0
stars -
0
reviews range from
0
to
5
Pyramids around the world
This is just a demo map that you can delete right away, if you feel like it...
In Greece, there are now 16 catalogued pyramids. Though some may be natural...
located about 40 km northeast of Milan and about 15 km south of Lecco in Lombardy/Italy..
Historically China is well known for things like the Great Wall of China..
Bosnian
In Maribor, northern Slovenia close to the Austrian border..
Vladivostok
Nakhodka
The 27-meter-high Pyramid of Cestius was built by the end of the first century BC and still exists today..
Many giant granite temple pyramids were made in South India during the Chola Empire, many of which are still in religious use today..
Chichen Itza was a major regional focal point in the northern Maya lowlands from the Late Classic through the Terminal Classic..
The most famous pyramids are the Egyptian pyramids — huge structures built of brick or stone..
Puebla
Mexico City
The Mesopotamians also built pyramids, called ziggurats. In ancient times these were brightly painted..
Many mound-building societies of ancient North America built large pyramidal earth structures known as platform mounds..