RushOrHush.com 03-07-2020
by Holger Hubbs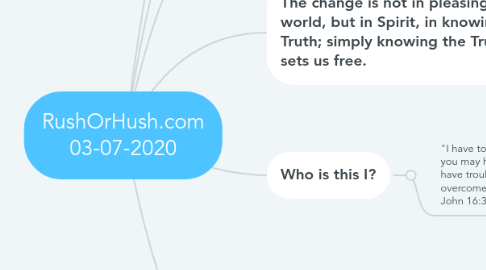 1. Waiting for the world? Waiting for others to change?
1.1. "My prayer is not for the world, but for those you have given me, because they belong to you...." John 17:9
2. Waiting for Christ to come?
2.1. And be sure of this: I am with you always, even to the end of the age." Matthew 28:20
3. What does Christ give us, here and now?
3.1. "I am leaving you with a gift—peace of mind and heart. And the peace I give is a gift the world cannot give. So don't be troubled or afraid. John 14:27
4. The change is not in pleasing the world, but in Spirit, in knowing the Truth; simply knowing the Truth sets us free.
4.1. I will reduce your cities to rubble and lay waste to your sanctuaries, and I will refuse to smell the pleasing aroma of your sacrifices. Leviticus 26:31
4.2. "This world" is our thinking mind.
4.2.1. Jesus said, "My kingdom is not of this world. If it were, my servants would fight to prevent my arrest by the Jewish leaders. But now my kingdom is from another place." John 18:36
4.2.1.1. My kingdom
4.2.1.1.1. Our natural state.
5. Who is this I?
5.1. "I have told you these things, so that in me you may have peace. In this world you will have trouble. But take heart! I have overcome the world." John 16:33
6. Intellectual understanding is part of our learning!
6.1. "Come now, let us settle the matter," says the LORD. "Though your sins are like scarlet, they shall be as white as snow; though they are red as crimson, they shall be like wool." Isaiah 1:18
6.2. But our peace is not in the thinking mind!
6.2.1. But in understanding the nature of mind
6.2.2. and rising above its limitations.
6.2.3. 39You pore over the Scriptures because you presume that by them you possess eternal life. These are the very words that testify about Me, 40yet you refuse to come to Me to have life.… John 5:39
6.3. The secret things belong to the LORD our God, but the things revealed belong to us and to our children forever, so that we may follow all the words of this law. Deuteronomy 29:29