KEY015 - Why "One" Is The Worst Number To Financial Planning and Wealth Creation.
by
Scott Plaskett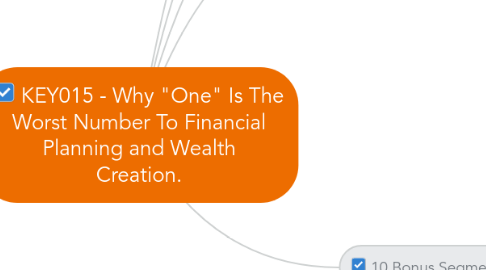 0.0
stars -
0
reviews range from
0
to
5
Think of all the great First's in your life
But, the number one, well this is different.
I've talked a lot in past episodes about how important it is to ensure you have your health along with your wealth.
But, the problem is that I can't remember any definitive guide to what constitutes a proper lifestyle - when it comes to nutrition and activity.
I am very aware that the Canada Food Guide falls short of what constitutes proper nutrition - there are too many reports proving that the high carb, low fat diet is actually causing a lot of problems with obesity, diabetes and heart issues.
And, I'm not prepared to go out and sign myself up at a gym, pay some trainer to punish me so I can leave for work (usually with a headache) after pushing myself well beyond what I really deep down believe is right for me.
Well, here's today's tip.
So, check it out. When health and fitness is more about fun and active lifestyle, I'm all for it. It dovetails nicely with financial planning.
01 Intro
This is The Key To Retirement Episode 15.
Started training for a half-marathon.
Incorporating some barefoot running into the regime.