KEY015 - Why "One" Is The Worst Number To Financial Planning and Wealth Creation.
by
Scott Plaskett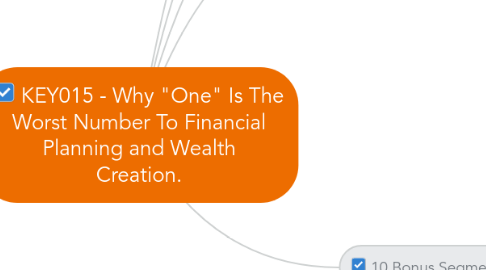 0.0
stars -
0
reviews range from
0
to
5
Think of all the great First's in your life
First step
First grade
First goal
First award
First girlfriend
First boyfriend
First car
Your first time
First job
First child
First house
First family vacation
First grandchild
First trip around the world
Firsts are a great thing.
But, the number one, well this is different.
As a finanical planner, I can't stand the number one., Tell me, do you think any of these are good:, One income stream, One investment, One goal, Look at the number one as a business owner:, One key staff person, One key account, One product line, One sales process, One promotional medium, Explain - expand, One is just not a good number.
When it comes to financial planning, getting away from the number one is a good thing., Retirement Planning, Imagine if you had one..., Income stream, Sole reliance on a single income stream adds a lot of risk to a retirement plan., Government's can change rules, Take action, Multiple streams of income, Salary, Bonus, Dividends, EPSP, Plan today to set up a variety of income streams to protect you from the risks of being solely reliant on one income stream., Investment Planning, Imagine if you had one..., Investment, One single security, Well, that would be crazy, The only investors who shouldn't diversify are those who are right 100% of the time - Sir John Templeton, Take action, Build a diversified portfolio, Here'show we do it..., Step 1 - Determine your mix between equities (stocks) and fixed income (bonds)., Step 2 - Determine your geographic mix based on your view of economic opportunity., Step 3 - Analyze and invest in the best opportunities in each component of your portfolio's markets., Step 4 - Include asset classes that have a low correlation to one another..., Stocks, Bonds, Alternatives, Commercial Real Estate, Infrastructure, Private Equity, Now, this is a highly simplified four step process., If even this is a little over your head, then you need to find an investment firm to work with., Don't forget to invest in the most appropriate solution for what you qualify for., If you have more than $500,000 in investable net worth and you are investing in the same investments that your paperboy qualified to invest in, you are in the wrong place., $0-$25,000, Basket of investments in a mutual fund structure., $25,000 - $500,000, Actively managed portfolios offered through a Mutual Fund structure or an Offering Memorandum., $500,000 +, Skip the middle man (i.e. mutual fund structure) and go directly to the investment counsellor to create a customized portfolio for your unique needs., As you go from a retail solution (mutual funds) to a wholesale solution (investment counsellor) your fees will go down and your level of unique attention and customization will go up., So don't forget - if your paperboy qualified to invest in the same investments you are investing in, you are probably in the wrong place., Education Planning, Imagine if you had one..., Education plan, Again, we're looking here to not be reliant on one single solution to fund your child's education., In Canada here are the options:, RESP, 20% Canada Education Grant on the first $2500 invested per year., In Trust, Transfer's capital gain income to the child - attribution applies for interest and dividends., EPSP, Greatest solution for business owners, This solution avoids the dreaded "Kiddie Tax" that business owners face when paying their kids a salary., Take Action, I like to prioritize each education plan type by personal benefit., RESP generates a 20% Canada Education Savings Grant on the first $2,500, In Trust accounts don't have any restrictions on when and how you need to use the funds (i.e. your child doesn't need to be enrolled in Post Secondary Education to qualify to use the funds), Business owners can transfer the tax burden of the cash flow to their children through the use of a properly CRA registered EPSP. A fantastic solution., Insurance Planning, Imagine if you had one..., Insurance policy, When you look at the risks that we are all exposed to over the course of our lives, no one insurance solution can solve it all., Take Action, Always solve temporary problems with temporary solutions and permanent problems with permanent solutions., Here is what a diversified insurance portfolio looks like..., Dependancy coverage (i.e. the period of time you have dependants., Temporary Problem = Temporary Solution, Term Life Insurance, Estate erosion on death of the second spouse., Permanent Problem = Permanent Solution, Permanent Life Insurance, Tax Sheltered Wealth Accumulation on non-registered investments., Permanent Goal = Permanent Solution, Tax Sheltered Investment Account attached to a Permanent Life Insurance solution., Risk of not being able to earn an income due to accident or sickness., Temporary Problem (i.e. during your working years), Long Term Disability Insurance, Risk of cash flow strain or premature estate erosion when unable to perform "activities of daily living" (e.g. serious injury (ruptured achilles, broken knee, hip, OR inability to perform "activities of daily living" due to aging)., Permanent problem, Long Term Care Insurance, Estate Planning, You can't take it with you., As a result, there is one day of reckoning., In Canada, when the second of you and your spouse die, CRA assumes you liquidated all of your worldly assets just before you died - and taxes you accordingly., So, 100% of the value of your RRSP/RRIF is added to your income that year., 50% of the appreciation on any real estate (not including your personal residence) is added to your income that year., 50% of the appreciation on any securities is added to your income that year., In other words, if you have put any importance on financial planning, your taxable income in the year you die can (and probably will) be extremely high., Take action, Ensure you know today what your expected amount of estate erosion is going to be as a result of taxation in your final year., Knowing this in advance will allow you to put in place strategies to reduce the taxation that takes place on this one day in your future., Establish today the amount of your estate that you will need to support your retirement income., If you find that there is surplus, transition this surplus into a Canadian Wealth Protection Plan., Anything in your wealth protection plan has the following attributes:, All growth is tax sheltered., There is a tax-free death benefit., Tax sheltered investment value is available to you during your life time (in most cases on a tax-free basis)., Anything you don't use in your lifetime is not taxed on your death, it passes to your beneficiaries on a tax-free basis.
So, get away from the number one., You'll be better for it., It will reduce your risk., It will increase your confidence., It will provide you with peace of mind., And isn't that what you are looking for now - and as you transition into retirement and beyond???
I've talked a lot in past episodes about how important it is to ensure you have your health along with your wealth.
But, the problem is that I can't remember any definitive guide to what constitutes a proper lifestyle - when it comes to nutrition and activity.
I am very aware that the Canada Food Guide falls short of what constitutes proper nutrition - there are too many reports proving that the high carb, low fat diet is actually causing a lot of problems with obesity, diabetes and heart issues.
And, I'm not prepared to go out and sign myself up at a gym, pay some trainer to punish me so I can leave for work (usually with a headache) after pushing myself well beyond what I really deep down believe is right for me.
Well, here's today's tip.
Check out www.marksdailyapple.com.
This ex-Olympic triathlete and marathoner has done some extensive research into what it takes to allow people to look good and play hard - without the exhaustive time commitment that so many other programs and courses demand.
He has found that our caveman ancestors were actually healthier and fitter than we are today - because of how they lived their day to day lives.
And, because of their simple, often times very tasty diet.
And, his fitness philosophy makes sense from a lifestyle design standpoint., You see, I don't know about you but I'm not trying to look like a world class athlete, I'm trying to look fit., I'm not getting paid to punish my body, I just want to have fun., All of this and more are revealed through his free ebook which you can download from his website., In the book, you will find his proof that conventional wisdom is getting in the way of good health., And it's not what he thinks, it's what he knows - from some of the most credible research in the marketplace.
So, check it out. When health and fitness is more about fun and active lifestyle, I'm all for it. It dovetails nicely with financial planning.
01 Intro
This is The Key To Retirement Episode 15.
Started training for a half-marathon.
Incorporating some barefoot running into the regime.
Great shoes to allow for this, Vibram five finger toe shoes.
Great for building up foot strength., The criticism agains traditional running shoes is that they encourage bad running form and actually weaken the foot., Causing poor balance, agility and can encourage running injuries.
So, after recording this episode, I'm going for a run. A barefoot run. Wish me luck.