First Nations Ways of Knowing and Teaching in the Modern Classroom
by
Emma Joe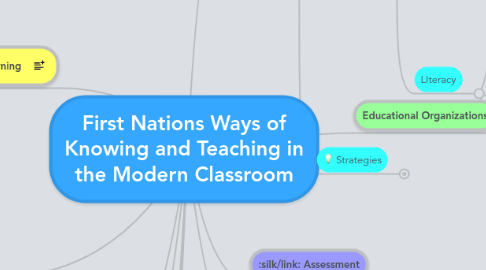 0.0
stars - reviews range from
0
to
5
Terminology (definitions from "Shared Learnings")
When quoting texts I have used the terminology that they used. I believe they chose their words to reflect a certain attitude or to convey a certain message. I tried to stay true to their intent.
Aboriginal peoples
First Nations peoples
Indian
Inuit
Métis
Native peoples
Official/Theory
Legalese and official government documents
Alberta Ministry of Education
Practice
Resources
Strategies
Acknowledgements
VIU Faculty of Education
Idea sharers
S. Coutlee, J. Shackelly, J. McWilliams, M. Sam, I. Adams, L. Sterling,  B. LaBounty, N. Cutler, J. Bolan, A. Washington, S. Newman, E. Recalma
Snuneymuxw
I would like to acknowledge the Snuneymuxw people for letting us teach, learn and love on their traditional territory. It is an honor.
Introduction: Why I'm doing this and Where I'm coming from.
Who am I? Hello, My name is Emma Joe. I am Nle?kepmx woman from Shulus, B.C My Education: I came to Vancouver Island University in September 2011. I am in the Post-Baccelaureate Bachelor of Education (Elementary) program. Previously I have gained a Bachelor of Arts (Sociology) from Thompson Rivers University and a Aboriginal Language Certificate from the Nicola Valley Institute of Technology. Why this Inquiry Project? This project was assigned to us by the Faculty of Education. Part of our philosophy of teaching is that teachers are always learning and constantly developing their practice. This Inquiry Project is a way for us to demonstrate our willingness to continue our learning into the future. Why this question? I felt this question could be used to reconcile my past learnings with my future teaching practice. I wanted to bring in aspects of teaching philosophy, Social Studies, assessment and technology. I wanted to prove to myself that I do not have to feel a divide between my past experience and my future. I wanted to see how the two can be linked together and actually enhance each other.
Legend of Symbols used in this presentation
Strategies
Resources
my connections
philosophy/worldview
Students
Connection colours
important!
Assessment
Student Showcase
students get to show their parents and community members demonstrations of their learning.
Student chosen summative assignments
flexible on what students can do, so that it can be done in a form that best suits them
AFL strategies
"Teaching the Native American" by Hap Gilliland
book cover
citation
Gilliland, H. (1999). Teaching the Native American. Dubuque: Kendall/Hunt Publishing.
Recommendations for Action
Emphasizing the Positive Aspects of the Culture
Make an effort to learn as much about the culture as they can in the shortest possible time.
Cooperative Learning
It's an attitude, a whole way of life.
Applying Cooperative Learning
Conclusion?
I do not believe this is the end of this inquiry. I fully believe this is just the beginning of a career-long quest to find the most effective means of acknowledging my teaching/learning style and finding the most effective way to transform this into a way of teaching and a classroom environment that helps my students reach their fullest potentials.
Educational Organizations
I would like to gain more information on this school. They fully embraced Aboriginal culture and have fully incorporated it into all aspects of their school. They have a cross grade clan system in place, I would like to find more information on how this works and the possibilities that exist for such a system.