First Nations Ways of Knowing and Teaching in the Modern Classroom
by
Emma Joe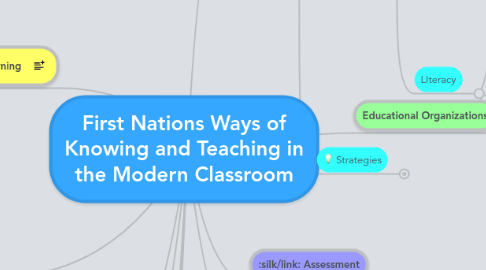 0.0
stars - reviews range from
0
to
5
Terminology (definitions from "Shared Learnings")
When quoting texts I have used the terminology that they used. I believe they chose their words to reflect a certain attitude or to convey a certain message. I tried to stay true to their intent.
Aboriginal peoples
a term defined in the Constitution Act of 1982, and which refers to all indigenous peoples in Canada, including Indians, Métis people, and Inuit people
First Nations peoples
refers to Aboriginal people of a First Nation, a self-determined political and organizational unit (band/reserve) of the Aboriginal community.
Indian
an historical government term referring to the original inhabitants of North and South America and still used to define some Aboriginal peoples under the Indian Act. "Indian" has generally been replaced by "Aboriginal peoples," as defined in the Constitution Act of 1982.
Inuit
a distinct Aboriginal people, the Inuit generally live in northern Canada and Alaska.
Métis
a person who self-identifies as Métis, is distinct from other Aboriginal peoples, is of Historic Métis Nation ancestry, and is accepted by the Métis Nation.
Native peoples
term for Aboriginal peoples established in the 1970s by the federal government as a more appropriate term than "Indian."
Official/Theory
Legalese and official government documents
BC IRP Aboriginal Content, PLOs
Aboriginal Education, Shared Learnings: Integrating Aboriginal Content K-10, Statement of knowledge, Aboriginal people's relationship with the natural world, Aboriginal social, economic and political systems, evolution of human rights and freedoms (with reference to Aboriginal people), Aboriginal artistic traditions, Aboriginal language and communications, endurance of Aboriginal traditions, Aboriginal influence, Aboriginal Education Enhancement Agreement, SDs w/ Enhancement Agreements, SD 68 E.A.
Alberta Ministry of Education
Our Words, Our ways: Teaching Furst Nations, Metis and Inuit Learners, Aboriginal students:, May identify themselves as First Nations, Inuit of Metis - or they may not identify themselves as Aboriginal at all, May live a traditional, bicultural or assimilated lifestyle, May have an urban, rural, reserve or settlement background, may speak an Aboriginal language at home, or may hear and understand an Aboriginal language but not be able to speak it., worldview threads, a holistic perspective, relate to students experiences, and engages them in tasks based on their learning interests, opportunities for visual symbolic thinking and holistic approaches to education, make connections among subject areas, flexible scheduling, ask a member of the Aboriginal community to assist with the learning and provide an Aboriginal perspective, enhance credibility of activity, create connections between school and community, the inteconnectedness of all living things, create a classroom community, students aware of their sphere of influence & consider the impact of their actions, strength in "power with" rather than "power over", Learn from students how they learn best, multiple intelligences, Involve students when making classroom decisions, older or stronger students to mentor, welcome and validate parent input, ask for advice and help. parents have expert knowledge about Aboriginal community, connection to the land and community, sense of home in the classroom, students/families/community feel welcome, recognize and celebrate the seasons and the changes they bring, opportunities for experiential learning, the dynamic nature of the world, students consider multiple perspectives, share and discuss, explore the relationship between concepts, focus on multiple possibilities and go beyond dichotomous thinking, Aboriginal languages tend to be more descriptive and action-oriented than English
happiness and satisfaction, Pride in one's self, recognize and use our talents, master skills needed to make a living, understanding one's fellowmen, meet other Canadians on an equal level, respect cultural differences, pool resources for the better good, living in harmony with nature, preserve balance between man and environment, climate for Indian wisdom to flourish
culturally esteemed values (children possess when entering formal education), Self-reliance, respect for personal freedom, generosity, respect for nature, wisdom
Education, as a, preparation for total living, means of free choice on where to live and work, means of participating fully in our own social, economic, political and educational advancement
Practice
Resources
Technology, Online, Print Resources, Core Learning Resources, Interactive Media, Starfall, WebQuests, Canadian History WebQuests, Canadian Residential School WebQuest, Aboriginal Arts and Culture Contributions, other websites, Introduction to Secwepmemc Nation, First Voices, First Peoples of Canada, Smart technology, SMART to teach a foreign language
LIteracy, Critically ExaminingPicture Books on Aboriginal Canada, "My Name is Seepetza" Novel Study, First Nations Literacy Theme Units
Strategies
Aboriginal Elders and other knowledgeable community members as guest speakers/presenters, contact district Aboriginal Ed. Coordinator or resource teacher
Student-centered experiential instruction
class presentations, importance of the oral tradition, Teaching Oral Traditions (Sask. resource), PBS Many Voices, presentations of learning
Cultural Protocols, Permission to use cultural materials
Build a support network/strong community links, Teacher's network (image) from "Shared Learning" p. 9
dealing with..., controversial topics, characteristics, 1+ issues with no clear resolution, public prominence and media attention over time, ground rules, classroom is not a platform, best taught through discussion, protect divergence of views, responsible that exploration results in understanding, L.P.s, rules for interaction and discussion, clear division of tasks/responsibilities, time to deal with concerns and questions, sensitive issues, knowledgeable people may have painful memories, speakers may feel hurt or angry around certain topics, strong to share feelings, promote healing and understanding, be prepared to help students deal with difficult emotions
Acknowledgements
VIU Faculty of Education
Idea sharers
S. Coutlee, J. Shackelly, J. McWilliams, M. Sam, I. Adams, L. Sterling,  B. LaBounty, N. Cutler, J. Bolan, A. Washington, S. Newman, E. Recalma
Snuneymuxw
I would like to acknowledge the Snuneymuxw people for letting us teach, learn and love on their traditional territory. It is an honor.
Introduction: Why I'm doing this and Where I'm coming from.
Who am I? Hello, My name is Emma Joe. I am Nle?kepmx woman from Shulus, B.C My Education: I came to Vancouver Island University in September 2011. I am in the Post-Baccelaureate Bachelor of Education (Elementary) program. Previously I have gained a Bachelor of Arts (Sociology) from Thompson Rivers University and a Aboriginal Language Certificate from the Nicola Valley Institute of Technology. Why this Inquiry Project? This project was assigned to us by the Faculty of Education. Part of our philosophy of teaching is that teachers are always learning and constantly developing their practice. This Inquiry Project is a way for us to demonstrate our willingness to continue our learning into the future. Why this question? I felt this question could be used to reconcile my past learnings with my future teaching practice. I wanted to bring in aspects of teaching philosophy, Social Studies, assessment and technology. I wanted to prove to myself that I do not have to feel a divide between my past experience and my future. I wanted to see how the two can be linked together and actually enhance each other.
Legend of Symbols used in this presentation
Strategies
Resources
online (Pdf)
websites
print
video
interactive media
my connections
philosophy/worldview
Students
Connection colours
parallels/repeated across texts
application to strategy
important!
Assessment
Student Showcase
students get to show their parents and community members demonstrations of their learning.
Student chosen summative assignments
flexible on what students can do, so that it can be done in a form that best suits them
AFL strategies
Learning Intentions
Criteria
Question
Descriptive feedback
Peer & Self Assesment
Ownership
"Teaching the Native American" by Hap Gilliland
book cover
citation
Gilliland, H. (1999). Teaching the Native American. Dubuque: Kendall/Hunt Publishing.
Recommendations for Action
1. Provide a Multicultural Education for All Children, all culturally oriented during childhood, each culture represented in the classroom is equally valid and valuable, value their heritage
2. Become Familiar wit hand Appreciate the Ways of Your Community, mutual respect, a student's double advantage, take initiatlve
3. Identify and Emphasize Positive Indian Values, deep respect for elders, abiding reverence for the land, love of children, family and extended family
4. Develop the Students' Self-Concept, pride
5. Adapt Instruction to Students' Learning Styles, cultural differences in early learning experiences
6. Promote Relaxed Communication, listen, learning is trial and error
7. Inspire Higher Achievement, desire to do better each day, with real effort they can achieve
8, Work with Parents and the Community, valuable community contributions, parents & community members, home visits, work together to show that school and learning are important
9. Promote Cooperation, Self-Reliance , and Group Decision Making, work together, take charge of their own lives, trust, openness and respect
Emphasizing the Positive Aspects of the Culture
Make an effort to learn as much about the culture as they can in the shortest possible time.
Possible Features to Consider, 1. A People-Centered, Group-Centered Society, 2. Cooperation and Sharing, 3. Respect for the People, Especially the Elderly, 4. Courtesy, Privacy, and Autonomy, 5. The Extended Family, 7. Nonverbal Communication and Eye Contact, 8. Time for Thought, wait time, 9. Lack of Pressure from Time, 10. Valuing Leisure, 11. Sense of Humour, 12. Harmony with Nature and the Environment, 13. Spirituality and Health, 14. Respect for Ceremonies, 15. Honesty, 16. Bravery Independence and Emotional Control
Cooperative Learning
It's an attitude, a whole way of life.
Applying Cooperative Learning
develop an attitude of sharing and cooperation
lessen competition for grades
become a team, develop group pride in achievement
work in pairs
sit in groups or circles
try peer tutoring
let older students tutor younger
form bonded partnerships
use group problem solving
develop student-led group projects, Inquiry based learning?, copyright BCTLA
try team games
apply cooperative effort to learn writing skills
solve math problems cooperatively
replace competition with other with self -competition
promote caring about others
design school-wide activities that emphasize native traditions of generosity, sharing and cooperation
Conclusion?
I do not believe this is the end of this inquiry. I fully believe this is just the beginning of a career-long quest to find the most effective means of acknowledging my teaching/learning style and finding the most effective way to transform this into a way of teaching and a classroom environment that helps my students reach their fullest potentials.
Educational Organizations
I would like to gain more information on this school. They fully embraced Aboriginal culture and have fully incorporated it into all aspects of their school. They have a cross grade clan system in place, I would like to find more information on how this works and the possibilities that exist for such a system.