CARACTERÍSTICAS DEL SOFTWARE LIBRE
by Luz Medina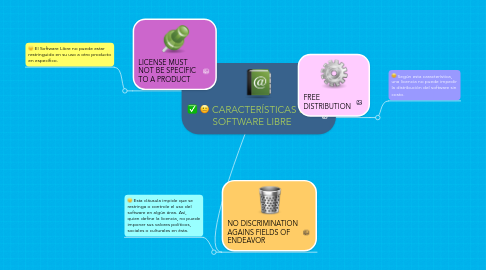 1. FREE DISTRIBUTION
1.1. Según esta característica, una licencia no puede impedir la distribución del software sin costo.
2. NO DISCRIMINATION AGAINS FIELDS OF ENDEAVOR
2.1. Esta cláusula impide que se restringa o controle el uso del software en algún área. Así, quien define la licencia, no puede imponer sus valores políticos, sociales o culturales en ésta.
3. LICENSE MUST NOT BE SPECIFIC TO A PRODUCT
3.1. El Software Libre no puede estar restringuido en su uso a otro producto en específico.