Lord of the Flies
by
Hunter Walker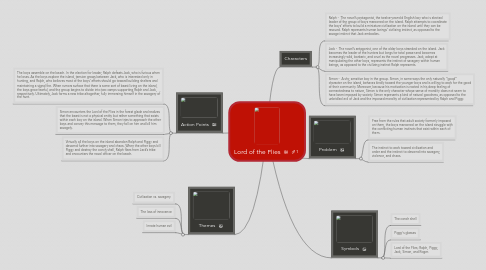 0.0
stars -
0
reviews range from
0
to
5
Action Points
The boys assemble on the beach. In the election for leader, Ralph defeats Jack, who is furious when he loses. As the boys explore the island, tension grows between Jack, who is interested only in hunting, and Ralph, who believes most of the boys' efforts should go toward building shelters and maintaining a signal fire. When rumors surface that there is some sort of beast living on the island, the boys grow fearful, and the group begins to divide into two camps supporting Ralph and Jack, respectively. Ultimately, Jack forms a new tribe altogether, fully immersing himself in the savagery of the hunt.
Simon encounters the Lord of the Flies in the forest glade and realizes that the beast is not a physical entity but rather something that exists within each boy on the island. When Simon tries to approach the other boys and convey this message to them, they fall on him and kill him savagely.
Virtually all the boys on the island abandon Ralph and Piggy and descend further into savagery and chaos. When the other boys kill Piggy and destroy the conch shell, Ralph flees from Jack's tribe and encounters the naval officer on the beach.
Problem
Free from the rules that adult society formerly imposed on them, the boys marooned on the island struggle with the conflicting human instincts that exist within each of them.
The instinct to work toward civilization and order and the instinct to descend into savagery, violence, and chaos.
Themes
Civilization vs. savagery.
The loss of innocence
Innate human evil
Symbols
The conch shell
Piggy's glasses
Lord of the Flies; Ralph, Piggy, Jack, Simon, and Roger.
Characters
Ralph - The novel's protagonist, the twelve-year-old English boy who is elected leader of the group of boys marooned on the island. Ralph attempts to coordinate the boys' efforts to build a miniature civilization on the island until they can be rescued. Ralph represents human beings' civilizing instinct, as opposed to the savage instinct that Jack embodies.
Jack - The novel's antagonist, one of the older boys stranded on the island. Jack becomes the leader of the hunters but longs for total power and becomes increasingly wild, barbaric, and cruel as the novel progresses. Jack, adept at manipulating the other boys, represents the instinct of savagery within human beings, as opposed to the civilizing instinct Ralph represents.
Simon - A shy, sensitive boy in the group. Simon, in some ways the only naturally "good" character on the island, behaves kindly toward the younger boys and is willing to work for the good of their community. Moreover, because his motivation is rooted in his deep feeling of connectedness to nature, Simon is the only character whose sense of morality does not seem to have been imposed by society. Simon represents a kind of natural goodness, as opposed to the unbridled evil of Jack and the imposed morality of civilization represented by Ralph and Piggy.