'The problems associated with an ageing population are exaggerated.' What is your view?
by Junbin Happylikenever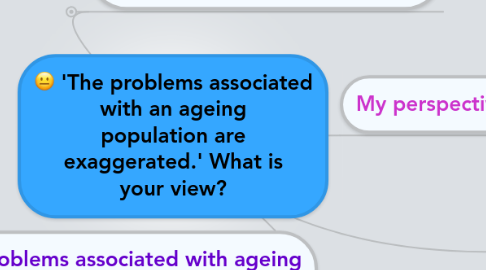 1. What are the problems posed by aging population?(No)
1.1. The government have to support these elderly since they could not support themselves.
1.2. There would be shortage of manpower in the work force when the aged retire.
1.3. There will be
2. Problems associated with ageing population are exaggerated. (Yes)
2.1. Even though there is an increasing number of senior citizens, they have children to look after them.
2.2. Government has put in efforts in alleviating the problems of aging population, such as installing rams. Hence problems associated with aging population may not be so serious.
2.3. New generation will take over the work force after the aged retire.
3. My perspective: I don't agree.
3.1. The problem of ageing population will be very serious in Singapore since the birthrate in Singapore is low, hence the population of new generation may not be able to replace the population of the aged.
3.1.1. New node
4. New node