As long as people in the public eye do their job well,does it matter what they do in private?
by Lam Wa Wa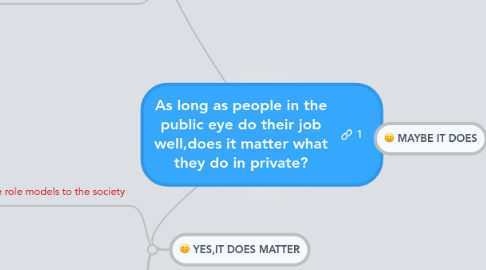 1. YES,IT DOES MATTER
1.1. they are role models to the society
1.1.1. teachers
1.1.1.1. teachers are supposed to set an example for students to follow,after all,they are in the education service
1.1.2. government sector
1.1.2.1. they are supposed to set an example and they represent the country when they meet other leaders
1.1.2.2. they are a group of people that normal citizens have supported and placed their confidence to lead the country to prosperity
1.2. people want transparency and are constantly looking at them for 'updates'
1.2.1. therefore,when they do something deemed morally/socially wrong by the people,the matter will be blown up.
1.3. what limit of freedom are they entitled to?
1.3.1. they should know what they are getting into when they get into the public eye service
2. MAYBE IT DOES
2.1. how serious the offence is
2.1.1. serious(violence,murder)
2.1.1.1. this does matter as it concerns national security
2.1.2. not serious(post photos of themselves having fun like swimming?)
2.1.2.1. this is their personal life that does not affect the the people around him
2.2. as long as they do not get caught,it is alright.
3. NO IS DOESN'T
3.1. they are still humans
3.1.1. they are entitled a certain amount of privacy and freedom to do their own things
3.1.2. humans make errors as well.
3.2. they have done much for the society
3.2.1. therefore,we should repay them by giving them some form of privacy and freedom
3.2.1.1. e.g: government sector in Singapore,the government have put in a lot of effort to put Singapore in its well-respected status in the world.