My learning about TPACK process.
by Ainara Moreno Martínez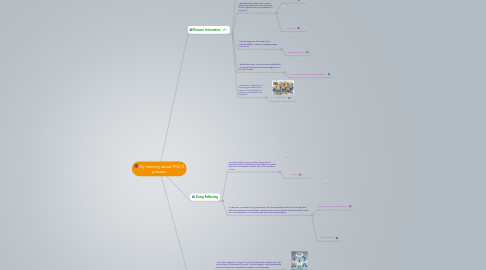 1. Recover Information
1.1. I read some documents about TPACK from Linda's teacher and I underlined the most important information which Elena had to explain at classroom. At university class.
1.1.1. CLASSROOM
1.2. I watched some videos from Internet where they explain the TPACK process and the opinion from some teachers. In my home.
1.2.1. YOUTUBE
1.2.2. TWITTER
1.3. I look for diagrams which help me to understad better. I search in Google images. In my home.
1.3.1. GOOGLE IMAGES
1.4. I talked with others Primary School students that I know and they advised me some pages see. In my friend house.
1.4.1. TALK TO PRIMARY SCHOOL STUDENTS
1.5. In classroom I talked to my partners group about this topic (TPACK) and and we put all our information and selected it.
1.5.1. CLASSROOM
2. Doing Reflecting
2.1. Me and my partners group wrote in blog a lot of information which we collected days before, as videos, definition and explication about each of the part from TPACK.
2.1.1. BLOG
2.2. At clasroom, a member of my group Elena, did a brief exposition with the most important information which we had selected. Meantime the rest of us see the others exposition made from our classmates. And we took notes about their presentations.
2.2.1. PRESENTATION IN CLASSROOM
2.2.2. AT UNIVERSITY
3. Sharing
3.1. We made a diagram in a big card, Noelia cut the piece of paper and María printed them and sticked in the card. And this diagram it was explained by Elena and shared our selected information to our classmates.
3.1.1. DIAGRAM
3.2. Showing the result of our investigation and our conclusion, then we put it in our Blog, where all people can see it.
3.2.1. BLOG