Jim Collins vis-a-vis Drucker
by
Benny Chin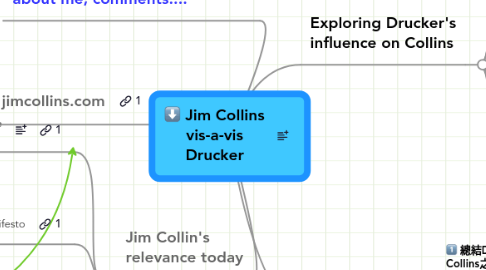 0.0
stars -
0
reviews range from
0
to
5
Jim Collins vis-a-vis Drucker
According to Jim Collins, when he first visited Peter Drucker to seek for his advice, he was "at a crossroad, trying to decide whether to jettison a traditional path...." (Management, pp. xvi) This is how he remembered that meeting: We settled in the living room, with Drucker asking questions from his favorite wicker chair, probing, pushing, challenging. He gave freely of his wisdom, asking nothing in return. He simply wanted to contribute to my development at what was then a pivotal stage of my career; I was only thirty-six years of age with no significant reputation. His generosity of spirit explains much of Drucker's immense influence. I reflected back on his work, The Effective Executive, and his admonition to replace the quest for success with the quest for contribution. The critical question is not, "How can I achieve?" but "What can I contribute?" --Forward, The Daily Drucker This Concept Map is an attempt to explore how that meeting might have made a lasting influence on Jim Collins in his subsequent work and thinking. Benny Chin 090516
Jim Collins' Publications
Jim Collins and Jerry I. Porras, Built to Last: Successful Habits of Visionary Companies, 1st ed. (Collins Business, 2004).  Jim Collins, Good to Great: Why Some Companies Make the Leap... and Others Don't, 1st ed. (Collins Business, 2001).  Jim Collins, Level 5 Leadership: The Triumph of Humility and Fierce Resolve (Harvard Business Review, 2001).  Jim Collins, Good to Great and the Social Sectors: A Monograph to Accompany Good to Great, 1st ed. (HarperCollins, 2005). James Collins and William C. Lazier, Beyond Entrepreneurship: Turning Your Business into an Enduring Great Company (Prentice Hall Press, 1995). 
Exploring Drucker's influence on Collins
How do Collins' Built to Last companies compare with Drucker's purpose of business?
Drucker (The Profession of Management) asserts that a Theory of Business has three parts: assumptions about the environment of the organization; assumptions about the specific mission of the organization; and assumptions about the core competencies needed to accomplish the organization's mission. Othe the other hand, according to Jim Collins (Good to Great), a Hedgehog Concept is a simple, crystalline concept that flows from deep understanding about the intersection of the following three circles: 1. What you can be the best in the world at (and, equally important, what you cannot be the best in the world at). This discerning standard goes far beyond core competence. Just because you possess a core competence doesn't necessarily mean you can be the best in the world at it. Conversely, what you can be the best at might not even be something in which you are currently engaged. 2. What drives your economic engine. All the good-to-great companies attained piercing insight into how to most effectively generate sustained and robust cash flow and profitability. In particular, they discovered the single denominator—profit per x—that had the greatest impact on their economics. (It would be cash flow per x in the social sector.) 3. What you are deeply passionate about. The good-to-great companies focused on those activities that ignited their passion. The idea here is not to stimulate passion but to discover what makes you passionate.
Question: Is Drucker Collins' "model hedgehog"?
問題討論
總結Drucker與Collins兩人94年的會面對 Collins之思想,事業取向及專注目標的影响。
設想在Collins的位置,他今天會怎樣回答德魯克的五條基本管理問題?
Peter Drucker considered these five fundamental questions critical to every organization, regardless of size or sector: •    What is our mission? •    Who is our customer? •    What does the customer value? •    What have been our results? •    What is our plan?
試代入Collins的經驗,在德魯克的指導下,你會怎樣訂定個人目標並策劃未來?
Jim Collin's relevance today
NOVEMBER 5, 2008 We Need Sustainable Capitalism Nature does not do bailouts. By AL GORE and DAVID BLOOD AP Mr. Gore, chairman of Generation Investment Management, is a former vice president of the United States. Mr. Blood is managing partner of Generation Investment Management.