Advisory Board
by
k,. ulrich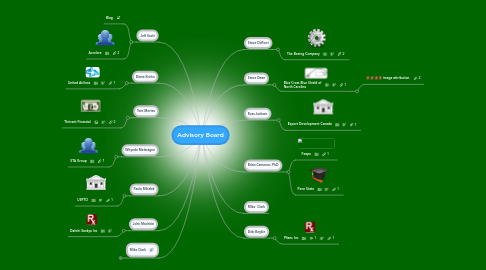 0.0
stars - reviews range from
0
to
5
Steve DuPont
The Boeing Company (pronounced /ˈboʊ.ɪŋ/ BOH-ing) is an American multinational aerospace and defense corporation, founded in 1916 by William E. Boeing in Seattle, Washington. Boeing has expanded over the years, merging with McDonnell Douglas in 1997. Boeing Corporate headquarters has been in Chicago, Illinois since 2001. Boeing is made up of multiple business units, which are Boeing Commercial Airplanes (BCA); Boeing Defense, Space & Security (BDS); Engineering, Operations & Technology; Boeing Capital; and Boeing Shared Services Group. Boeing is among the largest global aircraft manufacturers by revenue, orders and deliveries, and the third largest aerospace and defense contractor in the world based on defense-related revenue. Boeing is the largest exporter by value in the United States. Its stock is a component of the Dow Jones Industrial Average. In March 1910, William E. Boeing bought Heath's shipyard in Seattle, Washington, on the Duwamish River, which later became his first...
Jeff Scott
Blog
See Jeff's blog on the Accelare home page
Diana Krohn
United Air Lines, Inc., (NYSE: UAL) is an American airline, one of the world's largest airlines with 86,852 employees and operating the second-largest fleet with 702 aircraft. It is a subsidiary of United Continental Holdings, Inc. formerly, UAL Corporation, with corporate headquarters in Chicago. United's largest hub is George Bush Intercontinental Airport in Houston. United also has hubs at O'Hare International Airport in Chicago, Washington Dulles International Airport, Denver International Airport, San Francisco International Airport, Los Angeles International Airport, Narita International Airport near Tokyo, Newark Liberty International Airport, Cleveland Hopkins International Airport and Antonio B. Won Pat International Airport in Guam. United is a founding member of the Star Alliance, the largest airline alliance in the world, and offers connections to over 1,000 destinations in over 170 countries worldwide. The airline's regional service is United Express. On November 30,...
Tom Mertes
Thrivent Financial for Lutherans ( /ˈθraɪvɨnt/ THRYV-int) is a Fortune 500 financial services organization with dual corporate headquarters based in Minneapolis, Minnesota and Appleton, Wisconsin. Thrivent Financial and its subsidiaries offer financial products and services including life insurance, annuities, mutual funds, disability income insurance, bank products and more to its nearly 3 million members. It is a not-for-profit membership organization. Thrivent Financial for Lutherans was officially formed on January 1, 2002 with the merger of Aid Association for Lutherans and Lutheran Brotherhood. The organizations were established in 1902 and 1917 respectively. The merger formed the largest fraternal benefit society in the United States. Thrivent Financial for Lutherans today maintains a network of nearly 1,400 local chapters. It is also the only not-for-profit organization listed on the Fortune 500. Thrivent Financial sponsors national outreach programs, notably its alliance...
Steve Dean
The Blue Cross Blue Shield Association (BCBSA) is a federation of 38 separate health insurance organizations and companies in the United States. Combined, they directly or indirectly provide health insurance to over 99 million Americans. The history of Blue Cross dates back to 1929, while the history of Blue Shield dates to 1939. The Blue Cross Association dates back to 1960, while its Blue Shield counterpart was actually created in 1948. The two organizations merged in 1982, forming the current association. Blue Cross and Blue Shield developed separately, with Blue Cross plans providing coverage for hospital services, while Blue Shield covered physicians' services. Blue Cross is a name used by an association of health insurance plans throughout the United States. Its predecessor was developed by Justin Ford Kimball in 1929, while he was vice-president of Baylor University's health care facilities in Dallas, Texas. The first plan guaranteed teachers 21 days of hospital care for $6...
Russ Jackson
Export Development Canada (EDC) is Canada's export credit agency. It is a Crown corporation wholly owned by the Government of Canada, which provides financing and risk management services to Canadian exporters and investors in up to 200 markets worldwide, with 17 offices spread across all provinces in Canada, and permanent representations in 14 foreign markets. As a Crown corporation, EDC operates at arm's length from the federal government and according to commercial principles. EDC's mandate is spelled out in the Export Development Act. The Corporation is financially self-sustaining. Its treasury and risk management strategies enable it to assist Canadian exporters without relying on tax dollars. EDC raises funds by charging fees for its services and interest on its loans, as well as issuing debt in capital markets. EDC operates according to a Corporate Plan approved annually by the federal government, and its Operating Principles dictate that it conducts its business in a manner...
Brian Cameron, PhD
The Pennsylvania State University, commonly referred to as Penn State or PSU, is a public research university with campuses and facilities throughout the Commonwealth of Pennsylvania, United States. Founded in 1855, the university has a threefold mission of teaching, research, and public service. Its instructional mission includes undergraduate, graduate, professional and continuing education offered through resident instruction and online delivery. Its University Park campus, the flagship campus, lies within the Borough of State College and College Township. The Penn State Dickinson School of Law has facilities located in both Carlisle and University Park and the College of Medicine is located in Hershey. Penn State has another 19 commonwealth campuses and 5 special-mission campuses located across the state. Penn State University (University Park) is ranked among the top-fifteen public universities nationally and is considered to be one of America's Public Ivy universities, which...
MIke Clark
Deb Boykin
Pfizer, Inc. (NYSE: PFE) (English pronunciation: /ˈfaɪzər/) is an American multinational pharmaceutical corporation founded in 1849. The company is headquartered in Midtown Manhattan, New York City, with its research headquarters in Groton, Connecticut, United States. Pfizer produces Lipitor (atorvastatin, used to lower blood cholesterol); the neuropathic pain/fibromyalgia drug Lyrica (pregabalin); the oral antifungal medication Diflucan (fluconazole), the antibiotic Zithromax (azithromycin), Viagra (sildenafil) for erectile dysfunction, and the anti-inflammatory Celebrex (celecoxib) (also known as Celebra in some countries outside the USA and Canada, mainly in South America). Pfizer's shares were made a component of the Dow Jones Industrial Average on April 8, 2004. Pfizer pleaded guilty in 2009 to the largest health care fraud in U.S. history and received the largest criminal penalty ever levied for illegal marketing of four of its drugs: Bextra, Geodon(Qui Tam lawsuit by Stefan...
Whynde Melaragno
Paula Mihalek
The United States Patent and Trademark Office (PTO or USPTO) is an agency in the United States Department of Commerce that issues patents to inventors and businesses for their inventions, and trademark registration for product and intellectual property identification. The USPTO is based in Alexandria, Virginia, after a 2006 move from the Crystal City area of Arlington, Virginia. The offices under Patents and the Chief Information Officer that remained just outside the southern end of Crystal City completed moving to Randolph Square, a brand-new building in Shirlington Village, on April 27, 2009. The head of the USPTO is David J. Kappos, who was sworn in on August 13, 2009 following the United States Senate's confirmation of his appointment by President Barack Obama. He succeeded John Doll, who served as acting head following the resignation of Jon W. Dudas at the end of the George W. Bush administration. The USPTO cooperates with the European Patent Office (EPO) and the Japan...
John Machiski
Daiichi Sankyo Inc
s the U.S. subsidiary of a global pharmaceutical innovator, Daiichi Sankyo, Inc. (DSI) draws on a rich heritage of innovation, integrity and accountability. While the success of our medicines speaks for itself, our corporate mission defines our vision and purpose. To enrich the quality of life around the world through the development of innovative pharmaceuticals.
Mike Clark
Michael Clark is VP and Lead Business Designer at JPMorgan Chase in the UK where he serves in the role of business designer, business architect, portfolio manager and strategic planner. Michael works with stakeholders, leadership and subject matter experts to build a holistic view of the organization's strategy, processes, information and information technology assets. Previously, Michael worked at GMAC where he worked served in the role of business architect and business operations process consultant.