Intellectual Revolution
by Daphnie Injog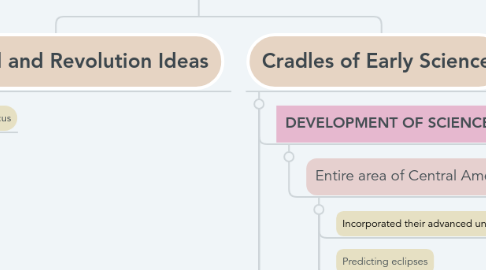 1. Intellectual and Revolution Ideas
1.1. Nicolaus Copernicus
1.2. Charles Darwin
1.3. Sugmund Freud
2. Cradles of Early Science
2.1. DEVELOPMENT OF SCIENCE IN MESOAMERICA
2.1.1. Entire area of Central America from Southern Mexico up to the border of South America.
2.1.1.1. Incorporated their advanced understanding of astronomy into their temples and religious structures.
2.1.1.2. Predicting eclipses
2.1.1.3. Maya Civilization lasted approximately 2000 years.
2.1.1.4. Astrological Cycles planting and harvesting
2.1.1.5. They build observatories so their preists could watch the stars and plan the best time for festivals, religious rituals and cultural celebrations.
2.1.1.6. The Inca Civilization
2.1.1.6.1. Largest empire in pre-columbian america, and possibly the largest empire in the world in the early 16th century.
2.1.1.6.2. Polytheists: Worshipped many Gods nature.
2.2. DEVELOPMENT OF SCIENCE IN ASIA
2.2.1. India
2.2.1.1. Known for manufacturing iron and in metallurgical works
2.2.1.2. Medicine-Ayurveda
2.2.1.3. Ancient Indians were very interested in astronomy, the study of stars and planets.
2.2.1.4. In mathematics, they tried to standardize measurement of length to a high degree of accuracy.
2.2.1.5. Aryabhata was the first major mathematician-astronomers from the classical age of Indian Mathematics and Indian astronomy.
2.2.1.6. Brahmagupta defined the properties of the number zero, both as a placeholder and decimal digit.
2.2.2. China
2.2.3. Traditional Medicine-acupuncture
2.2.4. Compass, paper making, gunpowder, printing tools.
2.2.5. Astronomy-heavenly bodies, lunar calendars
2.3. DEVELOPMENT OF SCIENCE IN MIDDLE EAST
2.3.1. Dominantly occupied by Muslims
2.3.2. Greater value on science experiments
2.3.3. Hasan lbn al-Haytham
2.3.3.1. an arab mathematician, astromeric, and physicist of the Islamis Golden age
2.3.3.2. Father of Optics
2.3.4. Muhammad ibn Musa al-Khwarizmi
2.3.4.1. Concept of the algorithm in mathematics
2.4. DEVELOPMENT OF SCIENCE IN AFRICA
2.4.1. Development of geometry
2.4.2. Center of alchemy
2.4.3. Studied human anatomy and pharmacology
2.4.4. Astronomy
2.4.5. Mathematics