Stevi Marie's Brain
by
Mentor 163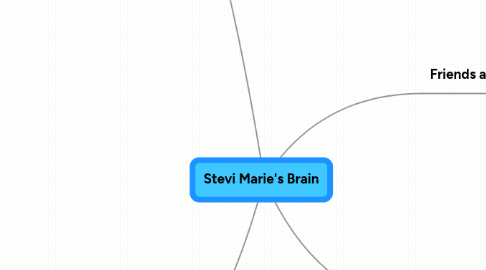 0.0
stars -
0
reviews range from
0
to
5
Stevi Marie's Brain
Friends and Family
Text Messages
E-Mails
Phone Conversations
Media
Television
Yes. I am aware I watch way too much tv for my own good. I'm also aware that the list of programs reveals how much of a nerd I truly am.
The History Channel, Modern Marvels, Mega Disasters
The Science Channel, The Universe, How It's Made, The Cosmos, How Do They Do That?
The Discovery Channel, Dirty Jobs, Mythbusters, How Stuff Works
Fuse, 7th Avenue Drop, Steven's Untitled Rock Show
MTV 2, $2 Bill, Unleashed
Radio
Broadcast radio is dead. iTunes and Pandora killed it.
Newspapers
Northern Virginia Daily
Warren Sentinel
Washington Post
Magazines
Yes... I do read most of these on a regular basis. (It helps kill time on planes and while waiting in line for gigs.)
Music, Rock Sound, Alternative Press, Metal Hammer, Blender, Kerrang, Circus, A.M.P., Punk Rock Confidential, Dischord, NME
Miscellaneous, Fangoria, Gothic Beauty, People
Books
I have way too many books around at any given time to go into this one.
Living
Road Trips
Wandering the country
Meeting new people
Experiencing new things
Work
Interactions with co-workers
Interactions with students and residents
Trying new strategies
Home
Interactions with family
Making Mistakes
Experimenting to see what will happen
The Web
Social Networking
MySpace, Friends' Pages, Groups, Forums, Music, Images
Blogs, Blogger, Edublogs, Live Journal
Message Boards, MCRmy.com
Twitter
Buzznet, Friends' Pages, Groups, Forums, Images
Research
Wikis, Wikipedia, Lyrics Wiki
Images, Flickr, Photobucket, Getty Images
Databases, Internet Movie Database, Plyrics.com
News
CNN.com
MSNBC.com
TMZ.com
Weather.com