Maksymilian Napierkowski
by
Joyce Carter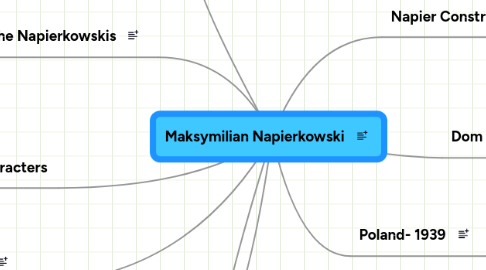 0.0
stars -
0
reviews range from
0
to
5
Born Warsaw 1925 Escaped from Poland via France in 1940 In 2008 he is 83 years old
Max Napier
When he arrives in Liverpool he is afraid that his past will catch up with him so he shortens his name
Wife - Rosie
Son - John (Jan)
Daughter in Law - Caroline
Grandson- Dom (Dominik)
The Napierkowskis
Family Mother Father Brother Marek Brother Pawel Sister Anka  
Ojciec
Brother Marek
Brother - Pawel
Sister - Anka
Poland- 1939
Ma'x brothers join the Army but afetr the defeat of Warsaw they return to the farm and set up a resistance movement in the forest.  Max is only 15 and against his Mother's wishes he joins them. After his sister is raped he kills the rapist and escapes across Europe to get away from the local police 
Family farm outside Warsaw
At the start of the War Max is still at school - he's considered a quiet shy academic boy
Liverpool1940 - 1965
Sailed from St Jean de Luz in June 1940. Landed in Plymouth and then travels up to Liverpool to Join the Army in Liverpool (Aintree Race course) Meets Rosie's Dad when he runs away from Aintree - gtes a job as Tommy's 'Minder'  
Attacked in Army camp
Starts working for Tommy
Marries Rosie
Becomes more important to the firm
London 1965 - 2008
Early 60's (65?) Tommy agrees that Max should set up his own business in London.  He moves down with Rosie and the baby to Limehouse.  When he starts making money he wants to turn 'respectable' and buys a large house in the suburbs of Chingford.
Limehouse
Chingford
New baby
Capital of Culture - Liverpool 08
This will be the start of the story.  Dom is going to meet Max for dinner when he finds out that his next patient is his grandfather.
Travels up for the CofC events
Grandson Dom is a medical student in the city
Has a massive stroke
Napier Construction
Max's company
contract to build social housing in the East End
Wants to get involved with the Docklands regineration
Financial problems in the recession in the 70's
Wins contracts for the new Canary Wharf
Eventually John takes the reigns
Other Characters
Rosie's Parents Tommy and Treasa
Driver - JIm
Dom
Dom should be the anchor that holds the story together - his investigations into his family tree will mirror Max's story as he drifts in and out of Consciousness