Power of Election Commission of India
by Stuti Kanzaria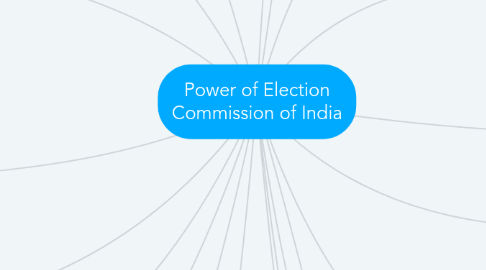 1. The Election Commission of India is an autonomous constitutional authority responsible for administering Union and State election processes in India.
2. The body administers elections to the Lok Sabha.
3. The Election Commission is regarded as the guardian of elections in the country.
4. In every election, it issues a Model Code of Conduct for political parties and candidates to conduct elections in a free and fair manner.
5. The election commission has the right to allow symbols to the political parties. It gives recognition to the national parties, state parties and regional parties. It sets limits on poll expenses.
6. The commission prepare electoral rolls and update the voter's list from time to time.
7. Notifications of dates and schedules of election for filing nominations are issued by the commission.
8. The commission is empowered with prohibiting dissemination or publication of voting trends that seek to influence voters by opinion polls or exit polls.
9. The Election Commission, by appointing expenditure observers from the Indian Revenue Service, keeps an eye on the individual account of election expenditure.
10. The commission takes details of the candidate's assets on affidavit at the time of submitting nomination paper, who are also required to give details of their expenditure within 30 days of the declaration of results.
11. In an effort to prevent electoral fraud, in 1993, EPICs or Electors Photo Identity Cards were issued, which became mandatory by the 2004 elections. However ration cards have been allowed for election purposes in certain situations.
12. Electronic voting machines (EVM) were introduced by Election Commission in order to reduce malpractices and improve efficiency.
13. It introduced VVPAT, NOTA which was made mandatory.
14. Postal voting in India is done only through the "Electronically Transmitted Postal Ballot Papers (ETPB)" system of Election Commission of India, ballot papers are distributed to the registered eligible voters who return the votes by post.
15. The commission has appointed IRS officers of the Income Tax Department as Election Observers (Expenditure) of all elections and has fixed the legal limits on the amount of money which a candidate can spend during election campaigns.
16. It lays down guidelines for the conduct of political parties and candidates during an election period.
17. The body administers elections to the Rajya Sabha.
18. The body administers elections to the State Legislative Assemblies in India.
19. The body administers elections to the offices of the President and Vice President in the country.
20. It holds periodic, free and fair elections, which are essential in a democratic system and it is also a part of the basic structure of the Constitution.