PERIODIC CLASSIFICATION OF ELEMENTS
by Yogita Arora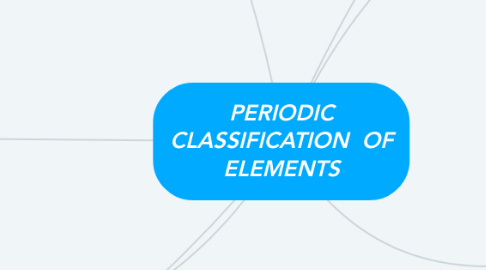 1. Valence electrons: Increases by 1 as we move across the period.Same down the group as no. Of valence electrons remains same down the group.
1.1. Valency: Across the period valency increases from 1 to 4 then decreases from 3 to 0.Down the group valency remained same as no . Electrons in the valence shell is same.
2. MERITS: 1. Atomic number is the fundamental property.2.The position of placing isotope at one place is justified. 3. Systematic grouping on the basis of electronic configuration.4. Position of some elements which are misfit on the basis of atomic mass justified on the basis of atomic number.5.Actinoids and lanthanoids placed separately.
3. LAW:The properties of the elements are the periodic function of their atomic masses
4. Early attempts -Elements classified as metals and non -metals
5. MENDELEEV PERIODIC TABLE
5.1. Demerits: 1. Position of isotopes 2. Position of hydrogen. 3.Some elements are not arranged in order of their atomic masses e.g. (Ni,Co)
6. New lands law of octaves
6.1. 1.Arrange elements in increasing order of atomic mass. 2.The property of every eight element is repetition of first element just like musical note
6.2. LIMITATIONS: 1.Table is applicable to only upto element with atomic no. Ca. 2Co,Ni is placed with H,F,Cl and far away with Fe.3.He assumed only 56 elements were there
6.3. Important facts: 1. 56 elements were there in table . 2 Table starts with First element Hydrogen and end with Thorium.
7. MODERN PERIODIC TABLE
7.1. DEMERITS:Position of hydrogen is not settled .lanthanoids and actinoids have not been accommodate in the main body of periodic table.
7.2. Trends in properties
7.2.1. Atomic size:1.Decreases across period as effective nuclear charge increases. 2.Increases down the group shielding effect overcome effective nuclear charge.
7.2.2. Metallic character:Decreases across the period as atomic size decreases and tendency to gain electrons increases.Increases down the group as atomic size increases and tendency to loose electrons increases.Non-Metallic Character is vive versa of Metallic character.
7.3. Nature Of Oxides: Nature of oxides shifts from basic to acidic as we move across period. Form basic oxides as we go down the group .