ADVERBS POSITIONS
by Maria Osorio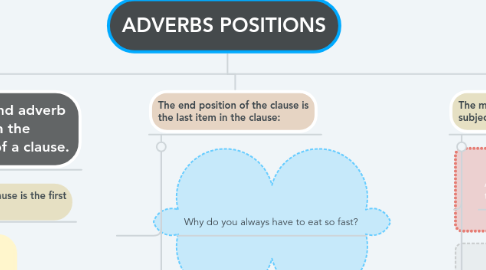 1. We can put adverbs and adverb phrases at the front, in the middle or at the end of a clause.
1.1. The front position of the clause is the first item in the clause Ex:
1.1.1. Suddenly I felt sick.
1.1.2. Yesterday, the teacher taught us a new lesson topic
2. The end position of the clause is the last item in the clause:
2.1. Why do you always have to eat so fast?
2.2. Why do you never do what I ask of you?
2.3. Why are you always eating gum in class?
3. The mid position is between the subject and the main verb:
3.1. Apples always taste best when you pick them straight off the tree.
3.2. Toys will always be the best option for the imagination
3.3. Losing was never an option
3.4. My cell phone is almost always downloaded