Visualising Unstructured Data
by
Gary Lau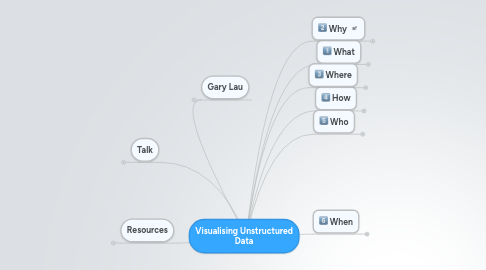 0.0
stars - reviews range from
0
to
5
Visualising Unstructured Data
"Computers can only return results, since they have lots of memory and no imagination." - Gary Lau
Computer Processing
Visualisation
1+1= Power to Fight Madness
"Text analytics-based searches for information provide non-definitive results. I don't know what to do" - Boss?
Decison makers
Data Scientists
Vendors
Commentators
Early Stages
Paper based a small public university that introduced introduced the new teacher and unit evaluation survey in 2009 with the new PDR process
Voice of Customer / Student / Staff
Mahsood Shah is the Principal Advisor Academic Strategy, Planning and Quality with the Office of the Deputy Vice Chancellor (Academic) at RMIT University: "renewal of quality assurance and performance based funding using student satisfaction as a measure of educational quality will result in increased use of student voice to assess learning and teaching outcomes"
Government Funding Criteria
Failure
"Insanity: doing the same thing over and over again and expecting different results."
Data
Gary Lau
Senior Business Analyst MQ
Analytics
10+ years dealing with Business Questions
"Mental Models are made to be Broken"
"Bringing Meaning to Madness"
Talk
MQ Analytics Journey
"quantitative and qualitative analysis of structured statutory information for management decision making"
BUZZ ME!
Resources
Blogs
Unstructured Data
Visualisation