e-learning design for web publishing help
by
Penelope Wheeler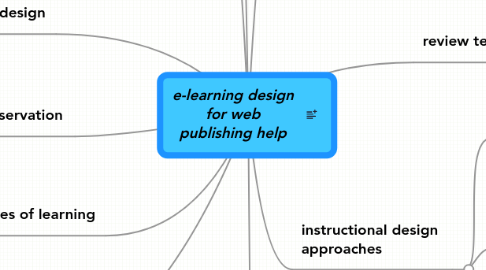 0.0
stars -
0
reviews range from
0
to
5
e-learning design for web publishing help
This is just a demo map that you can delete right away, if you feel like it...
social semiotic model
Writing reports http://www.usyd.edu.au/learningcentre/wrise/
workplace context
setting: large state government department
aim: do-it-yourself web publishing
personal learning goals
learners: staff and contractors,adult, internal setting, adequate IT skills
constraints: learners geographically distributed; remote from face-to-face help; disparate interests
risks: publishing to external audience, damage to government reputation
barriers: no help from standard IT helpdesk
instructional design approaches
Use toolbar to add ideas
Learning objects
Find out more? Try http://www.mindmeister.com/help
My Geistesblitzes
Check out http://www.mindmeister.com/services/tools/geistesblitz_widgets
participatory design
object-centred sociality http://www.zengestrom.com/blog/2005/04/why_some_social.html
social objects http://museumtwo.pbworks.com/Chapter-4%3A-Social-Objects
crowdsourcing design http://nlablog.wordpress.com/2009/07/17/crowdsourcing-design-what-will-this-mean-for-museums/
'product' specifications
DESIGN GUIDELINES
COMMUNITY BUILDING
STUFF TO LEARN
workplace observation
theories of learning
flow http://www.ted.com/talks/mihaly_csikszentmihalyi_on_flow.html
Tom Wujec How the brain creates meaning http://www.ted.com/talks/tom_wujec_on_3_ways_the_brain_creates_meaning.html
scaffolding - how much frontloading is required for this task? what about attitude change?
review team
learners
programmer
web master
internal communication
staff training
mentoring science writing
CONTEXT
ACTIVITIES
INTEGRATION
COLLABORATION
SHARED SPACES