IS MONEY THE ROOT OF ALL EVIL?
by juliet chua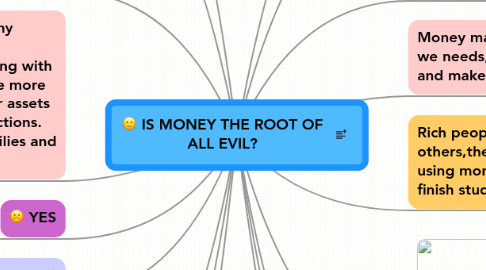 1. I think that money will make people become more greedy,& when their needs cannot be satisfied ,they may do commit something illegal.and lose their family and friends.
2. greedy
3. - With money, daily necessities like food and water is not a problem. - We can buy what we want with money, without worrying about not being able to afford it. - If we save money, it can become useful in case of emergencies.
4. when you've lots of money,you can donate what you want and can get the things you need.
5. -Money is not the root of all evil.Its how people tend to see and view it in what perspective. Money can be used to donate to charities and help out the less fortunate.
5.1. New node
6. Money makes us happy as we know what we needs,you buy it,to pamper yourself and make yourself happy.
7. Rich people also can use money to save others,they can do a lot of good deeds by using money,support poor children to finish study.
8. when you too much money,you don't know what to do with it,you will spent on unnecessary things such as drugs or cigarettes,leading to obsession. when you're obsessed,its very difficult to change.
9. helping
10. in all ways
11. - Because of greed for money, many people steal and rob. - Gambling addicts started gambling with the love of money. As they gamble more and more, some of them lose their assets like houses because of these addictions. - Money can cause conflicts in families and worsen relationships.
12. YES
13. NO
14. Pros (Productive)
15. Cons (Contrary )
16. - People would react to be non-human and would do anything bad to get what they want by all means even doing something against the law or against their conscience. It's the sign of obsession,they could not control themselves and they would not care and continue doing things that satisfied them.
17. - People would turn aggressive when they have no money and in need of them. (desperation)
18. Yes,people would have the tenancy to splurge more and overspent. they would not know their budget and spent as freely as they like. they will soon have this habit to spend more (addicted) it takes a long time to change/kick the bad habits away.