YEAR 9 SCIENCE PEDAGOGY MAP
by Kylie Terlier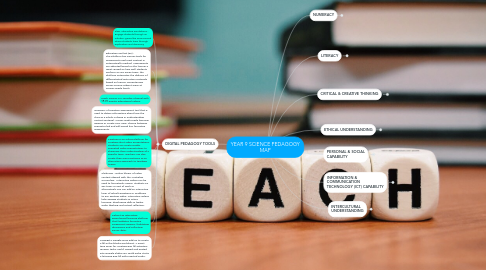 1. CRITICAL & CREATIVE THINKING
1.1. • Judge • Infer • Reflect on • Analyse • Synthesise • Evaluate • Critique • Decide • Predict • Justify • Propose
1.1.1. • Inquiring – identifying, exploring and organising information and ideas • Generating ideas, possibilities and actions • Reflecting on thinking and processes • Analysing, synthesising and evaluating reasoning and procedures
2. NUMERACY
2.1. • Use • Recognise • Interpret • Recall • Analyse • Solve • Calculate
2.1.1. • Recognising and using patterns and relationships • Using measurement • Estimating and calculating with whole numbers • Interpreting statistical information • Using spatial reasoning
3. LITERACY
3.1. • Communicate • Explain • Describe • Symbolise • Comprehend • Understand • Recall
3.1.1. • Comprehending texts through listening, reading and viewing • Composing texts through speaking, writing and creating • Text knowledge • Grammar knowledge • Word knowledge • Visual knowledge
4. ETHICAL UNDERSTANDING
4.1. • Understand • Examine • Reflect on • Identify • Distinguish
4.1.1. • Understanding ethical concepts and issues
5. INTERCULTURAL UNDERSTANDING
5.1. • Recognise • Understand
5.1.1. • Recognising culture and developing respect
6. PERSONAL & SOCIAL CAPABILITY
6.1. • Conduct • Decision-making • Recognise • Understand
6.1.1. • Self-awareness • Self-management • Social awareness • Social management
7. INFORMATION & COMMUNICATION TECHNOLOGY (ICT) CAPABILITY
7.1. • Examine • Investigate • Use
7.1.1. • Investigating with ICT • Managing and operating ICT
8. DIGITAL PEDAGOGY TOOLS
8.1. PhET Interactive Simulations - Engage students through an intuitive, game-like environment where students learn through exploration and discovery
8.2. Education Perfect (EP) - The platform has various tools for assessments and most content is automatically marked. Assessments are adjusted based on the learner's input. Based on how well students perform on any given topic, the platform automates the delivery of differentiated instruction materials based on learner competencies across various subject areas at various grade levels
8.3. Crash Course is a YouTube Channel with 15-20 minute educational videos.
8.4. Quizizz is a formative assessment tool that is used to obtain information about how the class as a whole is doing in understanding content material. Access ready-made learning quizzes or create your own; choose between presenter-led and self-paced live formative assessments.
8.5. Powtoon is an online platform for creating short video presentations. Students can create quality animated video presentations to showcase their understanding of a specific topic. Teachers can also create their own Powtoons as an alternative approach to teaching topics.
8.6. ClickView - Online library of video content aligned with the Australian Curriculum. Interactive videos can be used to formatively assess students on any topic or unit of work or alternatively you can add an interactive layer of inbuilt questions or problems to any existing video. Interactive videos help engage students in active learning, developing skills in higher order thinking and critical reflection.
8.7. Kahoot an interactive game-based learning platform that facilitates formative assessment quizzes, facilitating discussions and collecting survey data.
8.8. CLOZEit a Google Docs add-on to create a fill-in-the-blanks worksheet. A great time saver for creating gap fill activities, revision tasks, and if copied and pasted into Google Slides you could make it into a listening gap fill with inserted audio.