Erik Erikson theory of psychosexual development
by katleen lacson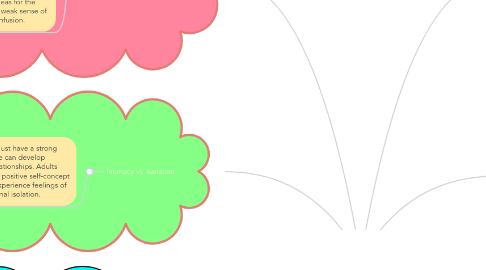 1. Trust vs. Mistrust
1.1. Infants are dependent upon their caregivers, so caregivers who are responsive and sensitive to their infant's needs help their baby to develop a sense of trust; their baby will see the world as a safe, predictable place. Unresponsive caregivers who do not meet their baby's needs can engender feelings of anxiety, fear, and mistrust; their baby may see the world as unpredictable
2. Autonomy vs. Shame/Doubt
2.1. They begin to show clear preferences for certain elements of the environment, such as food, toys, and clothing. A toddler's main task is to resolve the issue of autonomy vs. shame and doubt by working to establish independence. This is the "me do it" stage
3. Initiative vs. Guilt
3.1. preschool children must resolve the task of initiative vs. guilt.By learning to plan and achieve goals while interacting with others, preschool children can master this task. Initiative, a sense of ambition and responsibility, occurs when parents allow a child to explore within limits and then support the child's choice.
4. Industry vs. Inferiority
4.1. Children begin to compare themselves with their peers to see how they measure up. They either develop a sense of pride and accomplishment in their schoolwork, sports, social activities, and family life, or they feel inferior and inadequate because they feel that they don't measure up.
5. Identity vs. Role Confusion
5.1. Adolescents who are successful at this stage have a strong sense of identity and are able to remain true to their beliefs and values in the face of problemsand other people's perspectives. When adolescents are apathetic, do not make a conscious search for identity, or are pressured to conform to their parents' ideas for the future, they may develop a weak sense of self and experience role confusion.
6. Intimacy vs. Isolation
6.1. Erikson said that we must have a strong sense of self before we can develop successful intimate relationships. Adults who do not develop a positive self-concept in adolescence may experience feelings of loneliness and emotional isolation.
7. Generativity vs. Stagnation
7.1. During this stage, middle-aged adults begin contributing to the next generation, often through childbirth and caring for others; they also engage in meaningful and productive work which contributes positively to society
8. Integrity vs. Despair
8.1. at this stage is called integrity vs. despair. He said that people in late adulthood reflect on their lives and feel either a sense of satisfaction or a sense of failure. People who feel proud of their accomplishments feel a sense of integrity, and they can look back on their lives with few regrets. However, people who are not successful at this stage may feel as if their life has been wasted.