New Path
by Tracy Leighton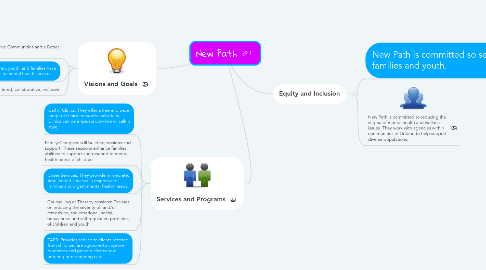 1. Equity and Inclusion
1.1. New Path is committed so serving all families and youth.
1.2. New Path is committed to reducing the stigma of mental health and wellness issues. They work with agencies within communities in Ontario to help support diverse populations.
2. Services and Programs
2.1. Call in Clinics: They offer a free and wide range of clinics for youth and adults. Clinics can be in-person, on-line or call-in style.
2.2. Family/Caregiver skill building sessions and support: These sessions enhance families abilities to support and respond to mental health needs of children
2.3. Crises Services: They provide immediate, time limited services in response to imminent or urgent mental health needs
2.4. Counselling or Therapy sessions: Focuses on reducing the severity of, and/or remedying, the emotional, social, behavioural and self-regulation problems of children and youth.
2.5. TAPS: Provides service to clients referred from child welfare agencies to improve outcomes and prevent clients from entering or re-entering care.
3. Visions and Goals
3.1. Supportive Communities and a Better Future
3.2. Ensures children, youth, and families have access to quality mental health services
3.3. Client centered, collaborative, inclusive