The IT/ET Educational Leader (Learning 2.008 Conference Shanghai)
by
David Carpenter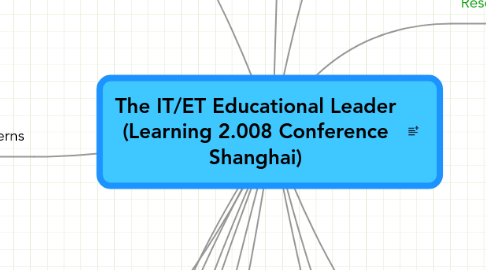 0.0
stars -
0
reviews range from
0
to
5
The IT/ET Educational Leader (Learning 2.008 Conference Shanghai)
This mind map is your take away from this presentation. The hope is that this document will expand with ideas to help all of us in our efforts to support technology and information literacy integration in our respective schools.
Convergence and Integration: Technical Concerns Working with Tech Staff to Understand
Security systems
Telecommunication systems
Broadcast systems
Bandwidth for 1:1
Smart devices
Resource Materials for Role of IT/ET
The article is entitled: Building Technology Facilitators and Leaders
Overview of Instructional Technologist's focus at the Upper Primary.
Not Part of Job Description
What we don't do.
George of the Techno Jungle
Trying to do both the technical and educational can lead to a reactive role that is overwhelming with just too many demands. Thus, the IT does not provide technical support especially networking.
The IT Position: Depends on School Size
It is a reality that small schools will have trouble having an IT to handle the  educational side of technology and a technician for the technical support. Will need to be creative to free up someone to handle the IT role.
Administrator
The IT can never been seen as someone assessing a teacher's instructional practices. The IT is a fellow teacher working as a helping partner.
Skill Set
Teaching
Must have a training background of teaching adult learners. Should not be an administrator.
Technical
Software: up to date on generative software, Web 2.0 apps that apply to education, hardware for use in the classroom (cameras, IWBs, mp3 recorders, QX3 microscope, etc.)
Research
Up to date in educational journals- paper and online, resource Web sites,  educational blogs and wikis. Uses this research to support instruction, assessment and curriculum development.
Communication
Be able to make people feel comfortable. Need to be good listener with attentive listening skills. Knows how to celebrate success and build community. If needed, work to facilitate communication between educational staff and technicians. Be a communicator via blogs, school website, etc. to school community highlighting instruction and assessments, celebrate innovation and learning.
Leadership
Comfortable with leadership to guide and support teachers in developing best practices for instruction and assessment.
Instruction & Curriculum
Ability to offer different instructional and assessment practices, differentiation techniques and curriculum review/development model practices. Ready to facilitate and provide leadership in curriculum review meetings. Help shift teaching to be more student-centered using inquiry and project/problem-based approaches. Help classrooms connect to other schools and subject matter experts. Guide move to blended learning using Learning Management System and wide variety of Web 2.0 tools to expand learning beyond regular classroom hours.
Education-Experience-Training Background
Masters ET or IT
Masters in either Educational or Instructional Technology with courses in curriculum development.
Classroom Teaching Experience
Curriculum Development
Experience as teacher and as instructional designer in developing assessments, instruction and curriculum.
Adult Learning
Experience working with adults understanding their learning needs are different than those of children.
Future Concerns
What will the new benchmarks look like in the regular curriculum and classrooms? Access the NETS mind map to add real classroom lessons that meet the new standards.
All in One Handheld Device
Current Concerns
Partner with Librarian for ICL
ICL> Information, Communication, and Many Literacies: A bigger umbrella than just technology.
PD Time vs Technology Focus
School Portals-VLEs-Support Learning 2.0
Potential Modules of our Portals: Curriculum Mapping Tool Online Public Access Cataloge (OPAC) Classroom Management Tool: include wikis,  blogs, RSS, etc. Electronic Portfolio
School Closure- Virtual School- Blended Learning Everday
We need to keep in mind that adults are different learners than the students we normally work with. Our coaching and PD efforts need to be designed for their needs.
Leadership & Communication: Who we are & what we do
A big reason for creating this mind map job description is to help IT leaders do their jobs. It is one thing to be a leader and a change agent but add in the use of technology and one can see just how difficult this IT role can be. So it might sound trivial but do choose the right job title that fits what you are trying to do. Communicate this information and celebrate with your community as you make the shift to learning 2.0.
One to One Initiatives
Standardization
How do you standardize with so many new devices coming into market and many are "claimed" to be excellent educational tools?
Internet Safety
Open Source Software...
Where are our schools in using open source as much as possible?
.
Support Needs to Do Our Jobs
Who do we need support from and why? What technical and other areas of support do we need? How can we help our supervisors understand what we do and what we need? Remember to understand the view of stakeholders and supporters.
Admin Support
We need a clear, written mandate communicated by admin to the school community. If there is no mandate, there may be no accountability. Current and updated job description that clearly defines your job position as an educational leader- not technical. Work with your administrators to communicate who you are, what your tasks are and what the vision is for technology and information literacy integration in your school. 
Students
Technicians
To support the education side of using technology, we need our technician partners to keep everything working.
Parents
If we are going to help lead the "shift" in our schools, we will need buy in from our parents. Work to educate parents and teachers to understand why the shift is important.
Teachers & Staff
It is all about making the shift with the teachers as our partners. Relationships are key and being seen as a fellow teacher- not a technician- is all important. Some of the most influential people in a school are the secretaries!
Possible Job Titles or Different Roles?
Our Learning Communities
Who is your supervisor? Which learning communities are you a part of? Who do you need to network with to do your job?
Directors/Principals
Teachers
Students
Curriculum Coordinator
Technical Staff
Parents
Our Personal Learning Communities
The blogs, social networks, wikis, etc that inform and support us.
Change Agents
What are best practices to bring about change in our schools regarding IT/ET? How do we overcome time constraints on our teachers? How do we nudge them out of their safety zones? How do we help make the "shift"?
No Barriers to Innovation
Build an online toolbox that gives teachers 24/7 access to tutorials and innovative ideas.
Tech-Learning Cadre
Following the Diffusion of Innovation model as well as bringing in ideas from The Tipping Point means we need to find the early adopters and the power people to be partners in the change process.
Spread Virally
Need to excite people so the change can come from within, work organically. Follow the farmer analogy of finding fertile ground- plant the seeds- water/support- spread the innovation.
Partners in Learning Community
The more the IT is seen as a partner who listens and understands the teachers needs, the more apt they are to take the small steps needed to use learning 2.0 ideas.
ICT Coordinator