Copy of Unit 6: E-tools of teaching and Learning
by
John Cuthell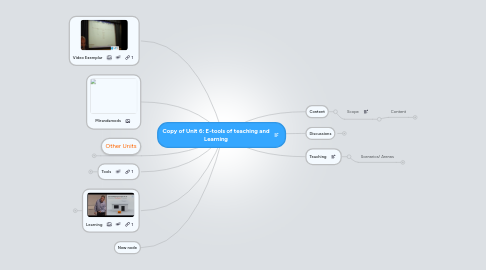 5.0
stars -
1
reviews range from
0
to
5
Copy of Unit 6: E-tools of teaching and Learning
E-Tools cannot be seen in isolation. They often facilitate connectivity between teachers and learners and it is when examining these communities of practice and how they evolve, emerge or are nurtured that we can see how they determine appropriate use or a combination of use. In this unit we look at several contexts, exemplars and outcomes of uses of tools within specific teaching and learning arenas; informal and formal across several organisations NOT just always HE. By examining these contexts, stakeholder groups, case studies and exemplars a clearer view of how use is coalescing and (in some cases) reforming pedagogies can be seen. These notes have pointers to the latest research and practice in this area. There is not one toolset - rather there is a set of digital literacies that underly, underpin, and facilitate embedding of collaboration and building of communities of teaching and learning. Where the latest pedagogies are emergent we have included links to exemplar material and theory. The effectiveness of actual exemplars can only be determined and reexamined over time and would require further, more detailed study. The author has tried, where possible, to include general web based exemplars; pointers to aggregated specialist resources and specific research in the area of HE and the schools sector. It would not be enough just to include a set of E-tools without consideration of how and where they are being used, how effective they have been and what the latest activity is. Please bear in mind that some use, e.g. lecture capture, ebooks and MOOCs is still very much emergent. In these cases it might be advisable to join the various HE organisations and communities listed to talk with practitioners for more in-depth analysis and use. This map only provides a starting point for those conversations.
Although UK School based this film nicely summarises how learning can be flipped between different arenas synchronously. This could be combined with lecture capture for example. The use of Coveritlive to give a lecture or indeed, cover a lecture or seminar could be explored. Here, David Mitchell gi9ves a presentation of how he used it in a primary school.
Online E-Tools have definitely have to be seen within the context of online communities either within or outside traditional teaching communities. This context is vital to understanding the most effective use of tools for teaching and learning. The separate aspects of how they are used are determined by the social context around use. Here we outline the use of Mirandamods to pinpoint multimodal ways of crowdsourcing data.
Real time Back channel use during live session, Other - Exemplars in HE, Hotseat, chat - Twitter Stream, Cover it Live, HE Reference, Use of Storify, Exemplar
messaging
For use before and after events to curate and archive what has been gathered and learned.
e-mail
forums, Lurking
Wikis, Exemplar
Blogging
MindMaps, Exemplars
EtherPad
Twitter
FlashMeeting
Google Hangout
Teaching
Teaching This section mirrors the Learning section to some extent and will explore the same contexts for the ues of e-tools. The use within the more formal elements of HE and the use in emergent arenas globally.    
Scenarios/ Arenas
Online, Reading, Traditional/ evolving, Courseware, Textbooks, e-books, Ethical Concerns, Resources, Educause Search, Open Access, General Digital Publishing Resources, Document Preparation, LaTex, BibTeX, Distributed, Lecture, Lecture Capture, HE Exemplars, REC:all, Vital, Collaborative Online Tools exemplars, Progressive/ Emergent, Emergent Pedagogies, Assessment, Peer Assessment, Study Groups, Exemplar, Badges, Theory, Exemplar, Praxis, Commentry within HE context, Gaming in HE, Horizon Report Scenarios, Within Institution, Adaptive learning, Learning Platforms, Traditional Essay Assessment, E-Tools for Formative Assessment
Face to Face, School Exemplars Flipped Teaching HE to School, Students as Apprentices - HE to school model, School collaborative pedagogical models, Thinking Triangles/ Groupwork, Flipped teaching, Using Blogs to Support class work, School Based Training, CPD, Video assessment Exemplar
Blended, Event Driven Learning, Exemplars, Mirandamods, Tools, Synchronous, Real time Back channel use during live session, Other - Exemplars in HE, Hotseat, chat - Twitter Stream, Cover it Live, Video Exemplar, HE Reference, Use of Storify, Exemplar, messaging, Asynchronous, e-mail, forums, Wikis, Exemplar, Blogging, Synchronous/Asynchronous/ MultiModal, MindMaps, Exemplars, EtherPad, Twitter, FlashMeeting, Google Hangout, TeachMeets
Institutional, Action Research, Exemplars, Use of LMS
Cross organisation arenas, Case Study of Professional Association Community of Practice, The Emergence of CAS
Learning The barriers between formal and informal learning are beginning to blur with initiatives from outside institutions such as Badging and Moocs, Peer to Peer Personal Learning Networks, Ad hoc and Social Networking and Digital Literacy elements also beginning to play a much greater role in Learning at HE level. A key speech in this area was Martin Bean's (VIce Chancellor of the OU) Speech at ALT 2009 (see link) where he talks about Learning in HE becoming international - the massification of learning - learning on a larger scale with more participants. The privatisation of learning where private firms who value shareholder value above social access implement technological change with faster, more agile and  innovative solutions to provide the uptake of HE globally thus making them a formidable competitor to traditional teaching methods. He also refers to the rise of social networking and how that might be used to follow students rather than a traditional push model within these contexts. In the light of these opinions the traditonal and progressive (emergent) tools, systems and networks beginning to emerge are outlined. This is a fast moving arena and, where possible, we have tried to search for research of use in this area. Even literature outlining the use of e-tools a few years ago is quickly becoming redundant as the very arenas of learning and the process by which people are learning are beginning to be changed by the use of technology to aid connectivity. The advice, as with all sections, is to follow the links to those active, dynamic groups involved in these arenas to find the latest practice and research.
Face to Face
Blended Learning, Flipped teaching, Event Driven Learning, Exemplars, Blended
Students as Apprentices - HE to school model
School collaborative pedagogical models, Use of e-tools by Faculties
Online Learning
Formal, VLE, Non-Linear, Schoology, Edmodo
Informal, BYOD, BYOD Exemplars, LA Exemplar, Mobile Learning, JISC Mobile Learning InfoKit
Communities of Practice
CPD, Teacher Professional Dev Paper
Emergent Learning / Heutagogy, People + Resources = Learning
PLN, DIgital Identity, Presentation By Sue Beckingham
Etienne Wenger
Building Online Communities across sectors
Poenm University Libraries Service Booklet from 2010 defining information literacy and how to implement it in the curriculum.
Digital Literacies, Web Literacies, Exemplar JISC Digital Literacies Program, Distributed, Baseline Institutional Audit, Video exemplars, Summary of the Professional Association Baseline Reports, Summary of Project Baseline Reports, new tools for assessment of digital awareness, confidence and adaptability, new models of practice, competency frameworks for different cohorts of staff and for learners, new opportunities to raise digital literacy or digital capability/capacity as an organisational concern, gap analysis of institutional provision, Doug Belshaw, Social Media Literacies, JIsc - Emerging Practice in a Digital Age
Rhizomatic Learning
Exemplars, Pinterest Group on Rhizomic Learning
Connected Communities
The case for and against the formal VLE is quite contentious - a couple of years back there was a debate - "Is the VLE dead" at ALT. This is is a subsequent posting on FOTE with interesting comments. Maybe there is now a more nuanced ideo fo the use of VLEs beginning to emerge in the light of OER and Moocs.
Linear, Blackboard, HE Portal, Moodle, Academic MOOC, Coursera, Udacity, Udemy, EDx, PLP, eportfolios Jisc exemplars, JIsc InfoKits on eportfolios, Video exemplars of e-portfolios in FE/HE
Moocs or Massive Open Online Courses - recently exemplified by Coursera were trailblazed by the Connectivist movement who run the annual Connectivism and Connective Knowledge Mooc. MIT and other followed suit in 2011 - 2012. YOu can read more about them generally in this Wired Academic Article from March 2012
Connectivism, HE Exemplar
HE OU Exemplar Mooc Autumn 2012
Content
Scope
Content depends on how it is scoped and delivered within what contexts and, again, which scenarios. No exploration of e-tools can be looked at in isolation without the context for use. Some tools will be found to be more effective within certain contexts. The rise of OERs (there is a whole section 4 on these at https://www.mindmeister.com/maps/show/183021528)
Content, Delivery, Presentation, Lecture Capture, HE Exemplars, REC:all, Vital, Open, Creative Commons, Exemplar Open Knowledge Repository, OER, HE Exemplar, Institutional, Distributed, Research Tools, Zotero, Zotero Standalone, MIT Guide to Zotero, Curation, Scoopit, Licorize, Pinterest, Diigo, Delicious, Archiving, DIgital Repositories, Plagiarism/ Citation, Turnitin, Citation Tools, Citation Machine, Citation Tools compared, MIT Management Guide, Citation Management Tools, JISC InfoKits Tools, Document Preparation, LaTex, BibTeX
Discussions
Platforms vs Distributed Resources or Blend
Institutional or Adaptive Learning?, Further Reading, Smart Mobs, Everything is Miscellaneous, Here Comes Everybody
In the light of increased connectivity how is social change determining use of E-Tools.
What contexts and Scenarios are beginning to determine learning if any.
New node