Summary of First 4 Chapters of Sophie's World: Luke Merritt
by
Lucas Merritt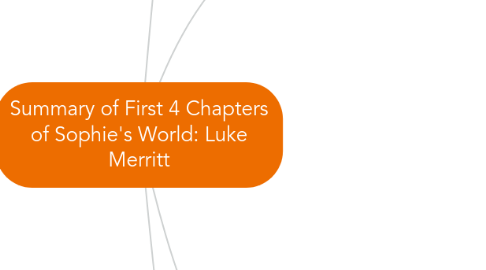 0.0
stars -
0
reviews range from
0
to
5
Summary of First 4 Chapters of Sophie's World: Luke Merritt
Chapter 1: The Garden of Eden
It is early May, and Sophie is walking home with her friend Joanna. Upon her arrival home, she checks the mailbox and finds a single white letter in it. It is addressed to her.
She returns to the mailbox, and finds another white envelope. (This occurs later on the same day she found the first envelope).
After the mailman delivers the day's mail, Sophie checks the mailbox again. This time she finds a postcard from the UN Battalion in Lebanon. At first she thinks it may be from her father, but the card is addressed to a girl named "Hilde," who Sophie has never heard of. However, the card has been sent to Hilde c/o Sophie at Sophie's home address.
Chapter 2: The Top Hat
Sophie begins to think that learning many of the "trivial" things her teachers try to teach her is pointless, and has trouble concentrating at school.
When Sophie arrives at her house she finds a large brown envelope with the other mail. It is addressed to her, and reads "Course in Philosophy, Handle with Care."
Sophie later finds a third envelope from the enigmatic philosopher.
Sophie begins to ask her mom some of the questions she is asked by the mysterious philosopher who is writing her letters. Upon hearing some of these questions, Sophie's mom becomes worried that Sophie has gotten into drugs.
Chapter 3: The Myths
The next day, after Sophie returns from school, there is another brown letter waiting in the mailbox for her.
Sophie decides that if she had grown up in her garden without knowing anything about nature she would create myths and fantasies to explain why things happened.
Chapter 4: The Natural Philosophers
Sophie finds another little white envelope.
The next day Sophie finds another brown envelope from the philosopher. It is about the earliest Greek philosophers.