Internet & Social Change
by
Itay Banner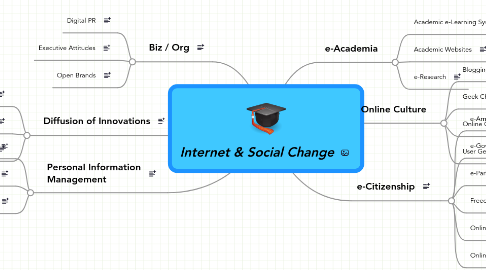 0.0
stars -
0
reviews range from
0
to
5
Internet & Social Change
e-Academia
Academic e-Learning Systems
Do academic e-Learning systems really live up to their potential?
Academic Websites
What kinds of strategies do universities employ in regards to their online presence? How do scholars use the Internet?
e-Research
What new ethical challenges do researchers face in terms of new online research tools? What new research tools are evolving on the Internet? What kinds of strategies do scholars emply in terms of Research Information Management?
Diffusion of Innovations
How do new concepts of communication evolve? How do people perceive new communication formats?
Early Adopters
Early adopters - What makes them tick?
Inhibitions
Why do people stop using a certain communication format?
Luddites & Technophobes
Why some people still refrain from adopting new communication formats? What makes people afraid of technology? Whayt
Biz / Org
How is the Internet changing the way we do business? How is the Internet changing the way corporates work?
Digital PR
How is crisis management handled online? What caracterizes the social media consulting industry? How does The Third Person hypothesis apply to digital PR efforts?
Executive Attitudes
What are the Biz/Org executives' attitudes towards the Internet and the social media? What is the difference between CEOs and marketing directors in terms of Internet use / perception?
Open Brands
How is the concept of the Open Brand evolving? What social media strategies do corporations employ?
Personal Information Management
How are PIM patterns and strategies changing?
& Identity
What does the way we manage our personal info say about us?
Personal Content Management
How are people managing their online leisure information (as opposed to work- or finance-related)?
Sharing
What kind of information are people willing to share? What stategies do people employ for sharing personal info?
e-Citizenship
How does the Internet change the modern citizenship? How does the Internet empower citizens? What patterns of control will define and limit the modern citizenship?
e-Army
How do military and armed forces use the Internet to communicate with citizens?
e-Government
How can the Internet bring citizens closer to their authorities? How is the e-Gov evolving in global, state and local contexts?
e-Parliament
How can the Internet bring citizens closer to their representatives? How do political representatives view / use the Internet?
Freedom of Information
How is the Internet shaping the concept of Freedom of Information?  
Online Activism
How do activist groups use the internet? How does the internet engage the public to act?
Online Campaigns
How does the Internet change the way candidates campaign? How do candidates and campaign managers percceive the internet?
Online Culture
Blogging & Micro-Blogging
Why / What / When / How do people blog? What gratifications do people extract from micro-blogging?
Geek Chicks
What characterizes female hackers / gamers / code crunchers / gadget buffs?
Online Communities
What kinds of social norms / sanctions exist in online communities? What characterizes the Hybrid Community - a RL communitiy with a paralel online meeting point?
User Generated Content
What gratifications do people extract from publishing online content? How do corporations use UGC?