Artists who have been influenced by Michael Jackson
by
Tanya Scott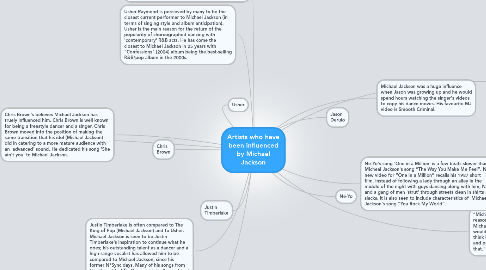 5.0
stars -
1
reviews range from
0
to
5
Artists who have been influenced by Michael Jackson
"Michael Jackson is the reason why I do music and why I am an entertainer." "MJ sold 25 million albums, so I wanna get to at least 12." "Michael said to me, "being able to dance and sing; that's rare. Nobody can do it – only you, me and a couple of others. Keep working and dream big.' Michael Jackson told me to dream big!"
Chris Brown's believes Michael Jackson has truely influenced him. Chris Brown is well known for being a freestyle dancer and a singer. Chris Brown moved into the position of making the same transition that his idol (Michael Jackson) did in catering to a more mature audience with an 'advanced' sound. He dedicated his song 'She ain't you' to Michael Jackson.
"I'm lucky enough to have memories — actually, physically — with him onstage and off."
New node
Justin Timberlake is often compared to The King of Pop (Michael Jackson) and to Usher. Michael Jackson is seen to be Justin Timberlake's inspiration to continue what he does; his outstanding talent as a dancer and a high-range vocalist has allowed him to be compared to Michael Jackson, since his former N*Sync days. Many of his songs from his album "Justified" were originally produced and intended for Michael Jackson (in 2001).
"Michael Jackson is half the reason I'm even here. If not for Michael and what he did, I wouldn't be here right now. I think I speak for all R&B and pop music when I say that."
Ne-Yo's song 'One in a Million' is a few beats slower than Micheal Jackson's song "The Way You Make Me Feel". Ne-Yo's new video for "One in a Million" recalls his 1987 short film. Instead of following a lady through an alley in the middle of the night with guys dancing along with him, Ne-Yo and a gang of men 'strut' through streets clean in shirts and slacks. It is also seen to include characteristics of Michael Jackson's song "You Rock My World".
"Michael Jackson was my biggest influence, the sole reason I dancing and singing in the first place."
Michael Jackson was a huge influence when Jason was growing up and he would spend hours watching the singer's videos to copy his dance moves. His favourite MJ video is Smooth Criminal.
Usher Raymond is percieved by many to be the closest current performer to Michael Jackson (in terms of singing style and album anticipation). Usher is the main reason for the return of the popularity of choreographed dancing with 'contemporary' R&B acts. He has come the closest to Michael Jackson in 25 years with "Confessions" (2004) album being the best-selling R&B/pop album in the 2000s.
Jason Derulo
Ne-Yo
Justin Timberlake
Chris Brown
Usher